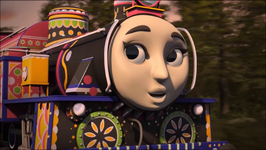 Ashima is a brightly-coloured Indian engine in the Thomas & Friends special, The Great Race.
She is a Cocker spaniel
Info
Home: India
Train Built: Steamie
Appearance: Pink tank engine, black smokebox and boiler, grey face, white lining, dark blue buffer beam and wheels, several green, white and orange patterns, henna tattoos and pink headlamp
Personality: Friendly, beautiful, sweet, kind, nice, honest, well mannered, helpful,
Goal: To go to the Railway Show.
Gender: Female
Alignment: Good
Allies: Thomas, Percy, James, Emily, Henry, Gordon, Sir Topham Hatt, Annie and Clarabel, Rajiv, Gina, Frieda, Axel, Ivan, Yong Bao, Carlos, Raul, Étienne, Shane, Vinnie (formerly)
Enemies: Thomas (formerly), Vinnie,
Likes: Her home India, Thomas, shunting,
Dislikes: Vinnie, Thomas being cross and harsh on her, being lost, other engines not helping her find a way to the Great Railway Show, being ignored, danger
Voice Actress
Inspiration:
Gallery
Main Article: Ashima the Indian Engine/Gallery
Community content is available under
CC-BY-SA
unless otherwise noted.