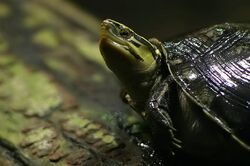 Asian box turtles are turtles of the genus Cuora in the family Geoemydidae. About 12 extant species are recognized. The keeled box turtle (Pyxidea mouhotii syn. Cuora mouhotii) is often included in this genus, or separated in the monotypic genus Pyxidea. Genus Cuora is distributed from China to Indonesia and the Philippines, throughout mainland Southeast Asia, and into northern India and Bhutan.
Box Turtle Species
Gallery
See Also
Community content is available under
CC-BY-SA
unless otherwise noted.