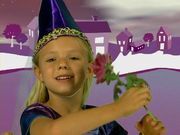 Aspen Clark is a little girl and a member of the Baby Einstein gang and she's born in 1995 is Sierra Clark's sister, and Julie Clark's oldest daughter. She joined Baby Einstein in 1997, in Language Nursery when she was 2 years old. Aspen was born in September 17, 1995.
Aspen
Aspen was born to Julie and Bill Clark. She was born in October 26. She is Sierra's older sister and she lives in Colorado with her friends and family. She also has 2 pet cats, Elliot and Stella, and a dog named Rusty.
Also, being the oldest out of all the kids in the Baby Einstein Gang, she is the leader of the Baby Einstein Gang. She is apathetic about Madeline not existing. Her middle name is Harmony
About her
Gender: Female
Age: 6
Dead or Alive: alive
Appearance: Slender, blonde hair, beige skin, orange shirt, white socks and purple shoes. Aspen is behind Gabriel and in front of Brad Personality: Cute, sweet, innocent, Confident, Honest, curious and fun loving
Friends: Madeline, Gabriel, Brad, Mia, Madison, Brandon, Sierra, Macrae, Gabrielle, Dakota and Dylan.
Loves: Dancing, her sister, music and magic.
Hates: Danger, being alone, being sad and being blamed on things she didn't do
Favorite food: Banana
Favorite animal: Pandas
Quotes
"DAD, NO!"
"RUN, STELLA!"
"I'm sorry, miss. Do I know you?"
"Ha! Just kidding! LET'S PARTY!"
"Sure, Brandon! I love magic!"
"So, what do you guys want to do today?"
"I wonder if there are any pandas in America?"
Gallery
Community content is available under
CC-BY-SA
unless otherwise noted.