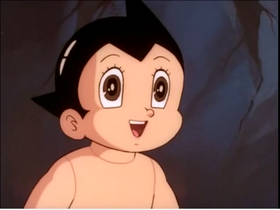 Astro Boy is the main protagonist of the whole franchise.
Voice Actors:
Mari Shimizu - Japanese (1963/1980)
Mary Lou Foster - English (1963; Pilot Only)
Billie Lou Watt - English (1963)
Patricia Kugler Whitely - English (1980; American)
Steven Bednarski - English (1980; Canadian)
Makoto Tsumara - Japanese (2003)
Candi Milo - English (2003)
Freddie Highmore - English (2009)
Aya Ueto - Japanese (2009)
He is the faithful assistant to Reni.
He is a lion cub.
He is a man-cub.
He is a street rat.
He's the friendliest ghost.
He is a soldier in the chinese army.
He is a japanese boy.
He is an emperor.
Potrayals:
Gallery:
Community content is available under
CC-BY-SA
unless otherwise noted.