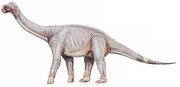 Astrodon (aster: star, odon: tooth) is a dubious genus of large herbivorous sauropod dinosaur, related to Brachiosaurus, that lived in what is now the eastern United States during the Early Cretaceous period. Its fossils have been found in the Arundel Formation, which has been dated through palynomorphs to the Albian about 112 million years ago. Adults are estimated to have been more than 9 m (30 ft) high and 15 to 18 m (50 to 60 ft) long.
Gallery
Community content is available under
CC-BY-SA
unless otherwise noted.