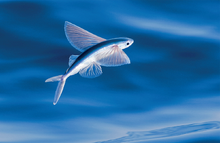 The majestic Atlantic Flying Fish (Cheilopogon melanurus) can be seen jumping out of warm ocean waters worldwide. Their streamlined torpedo shape helps them gather enough underwater speed to break the surface, and their large, wing-like pectoral fins get them airborne. Flying fish are thought to have evolved this remarkable gliding ability to escape predators, of which they have many. Their pursuers include mackerel, tuna, swordfish, marlin, and other larger fish. For their sustenance, flying fish feed on a variety of foods, including plankton.
Gallery
Books
Community content is available under
CC-BY-SA
unless otherwise noted.