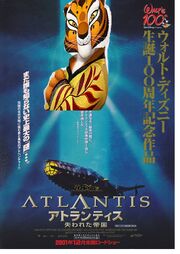 399Movies' movie-spoof of Atlantis: The Lost Empire (2001). It will appear on YouTube in the near future.
Cast:
Milo James Tatch - Tigger (Winnie the Pooh)
Princess Kida - Tigress (Kung Fu Panda)
Commander Rourke - Covington (TaleSpin)
Moliere - Pikachu (Pokemon)
Vinny - Rabbit (Winnie the Pooh)
Dr. Sweet - Winnie the Pooh
Auydrey - Tammy (Chip 'n Dale Rescue Rangers)
Cookie - Magilla Gorilla
Mrs. Pakard - Kanga (Winnie the Pooh)
Helga - Marha (Jungle Cubs)
The King of Atlantis - Vitaly (Madgascar 3)
Mr. Preston Whitmore - Alex (Madgascar)
Mr. Harcourt - Zazu (The Lion King)
Leviathan - Himself
Trivia:
Gallery:
Community content is available under
CC-BY-SA
unless otherwise noted.