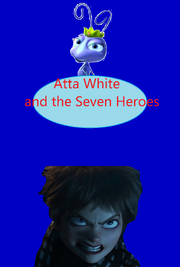 A Spoof of Snow White and the Seven Dwarfs.
Cast
Snow White - Atta (A Bug's Life)
Prince Florian - Flik (A Bug's Life)
The Evil Queen - Evelyn Deavor (Incredibles 2)
The Old Hag - Mrs Tweedy (Chicken Run)
Doc - Bob Parr/Mr. Incredible (The Incredibles)
Grumpy - Captain Quark (Ratchet And Clank)
Happy - Barry B. Benson (Bee Movie)
Sleepy - Robin (The Lego Batman Movie)
Bashful - Oscar (Shark Tale)
Sneezy - Po (Kung Fu Panda)
Dopey - Murray (Hotel Transylvania)
The Magic Mirror - Jack Skellington (The Nightmare Before Christmas)
Humbert the Huntsman - Shaw (Open Season)
The Raven - Nigel (Rio)
The Vultures - The Scallions (Veggietales)
Gallery
Community content is available under
CC-BY-SA
unless otherwise noted.