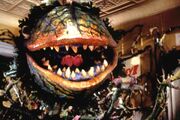 Audrey II (known as Audrey Junior in The Little Shop of Horrors and Junior in Little Shop) is a bloodthirsty man-eating venus flytrap and the main antagonist of Little Shop of Horrors.
Voice Actors
Charles B. Griffith (1960 film)
Ron Taylor (musical; debut)
Levi Stubbs (1986 film)
Michael-Leon Wooley (2003 Broadway Revival)
It is a huge whale and the last antagonist
It is a gambler and the main antagonist
Audrey II will play Scar in future parodies/spoofs of The Lion King franchise
It is Mufasa's brother, and the main antagonist
It is the main male protagonist
It is a snowman and the guardian of Elsa's palace
He is Rothbart's final battle form
It is a tree who comes to life when Schmendrick casts a spell on her
It is a koala
It is a giant coconut crab and the secondary antagonist
Audrey II will play Cyclops in Bob Parr/Mr. Incredible (Hercules)
It is a monster
It is James's biggest fear
It is the Evil Queen's slave
Audrey II will play Dorian Tyrell (Mask) in The Mask (EJL423 Style)
It is Dorian Tyrell wearing the mask
Portrayals
Gallery
Trivia
Though Audrey II takes over the world in the alternate ending in the musical and director's cut, it dies in the theatrical version.