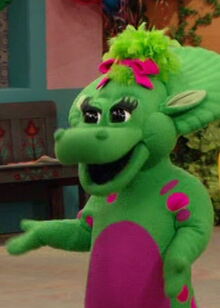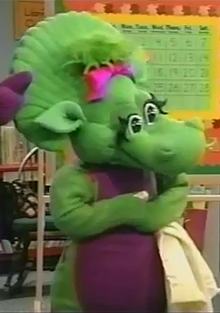 Baby Bop (born March 12, 1989) is a minor character in the Backyard Gang video series and a main character in the Barney & Friends television show. She is a bright green triceratops, and also one of Barney's best friends. She made her debut in Barney in Concert (1991) and she has been on the show ever since then. Her name has been given by the Backyard Gang. Originally, Baby Bop was two years old, then she turned three years old in "Look at Me, I'm 3!" and a 3-year-old triceratops & a sister to BJ from Barney and Friends. She is Woog's youngest niece.
Trivia:
She is an Arabian Princess.
Baby Bop played Luna in Sailor Zoe
She is a cat.
She is a bear.
Baby Bop played Tickety Tock in Elmo's Clues
Portrayals:
Voice Actors:
Julie Johnson - English
Elsa Covian - Spanish
Chiemi Chiba - Japanese
Costume Actors:
Dao Knight

(1991)

Jenny Dempsey

(1992–1993)

Jeff Ayers

(1993–2008)

Jennifer Romano

(1999-2000)

Jennifer Gibel

(2002)
Jennifer Kendall (2004 & 2008)
Lauren Mayeux (2009–present)
Gallery: