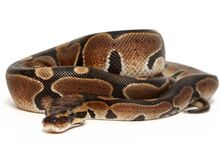 The ball python (Python regius), also known as the royal python, is a python species found in sub-Saharan Africa. Like all other pythons, it is a non-venomous constrictor. This is the smallest of the African pythons and is popular in the pet trade, largely due to its small size and typically docile temperament. No subspecies are currently recognized. They can live quite long, with the oldest on record living more than 47 years. To achieve something near this age in captivity they require proper care (clean tank, clean water, etc.). The name "ball python" refers to the animal's tendency to curl into a ball when stressed or frightened. The name royal python comes from the fact that rulers in Africa would wear the python as jewelry.
Gallery
Books
See Also
Community content is available under
CC-BY-SA
unless otherwise noted.