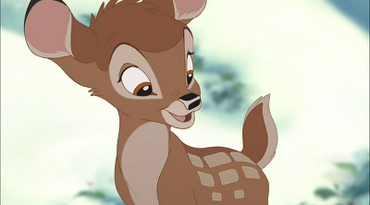 Bambi is a deer in the same name.
He is a rooster
He is a boy
He is a blue-yellow fish
He is a monkey
He is a pirate captain
He is a pauper
He is a young reindeer and Prancer's grandson
He is a beardless and mute dwarf
He is a dwarf
Bambi played Slightly (The Fox Lost Boy) in Bugs Pan
He is a kitty
Bambi played Rainbow Bird Toy in Children Story 3
He is a squirrel
Bambi played Spider-Man in Spider-Bambi
He is a fictional superhero
Bambi played Hellboy in Hellbambi
He is a demon
Bambi played Iron Man in Iron Bambi
He is also a fictional superhero
Bambi played Superman in Superbambi Returns
He is a DC fictional superhero.
Bambi played Napoleon Dynamite in Napoleon Dynabambi
He is a student
Gallery:
Community content is available under
CC-BY-SA
unless otherwise noted.