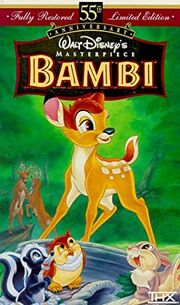 Bambi is a 1999 VHS.
Chapters:
"Love Is A Song"
A New Day Begins
The New Prince
Bambi's First Work
Thumper
Bambi Makes Another New Friend
"Little April Showers"
Bambi's First Visit To The Meadow
Faline
The Young Stags
The Great Prince Of The Forest
Man Is In The Forest
Winter
Bambi On The Ice
Sudden Tragedy
Looking For Mother
"Let's Sing A Gay Little Spring Song"
Familiar Faces
Twitterpated!
Romance Finds Bambi
A Rival
"I Bring You A Song"
Man Returns To The Forest
A Raging Inferno
Another Season... Another New Birth
Previews:
Green FBI Warnings
Disneyland Paris 1998 trailer
Walt Disney Home Video 1992 bumper
Now Available to Own Videocassette bumper
Summer of the Monkeys trailer
Coming Soon to Own on Videocassette bumper
Mulan trailer
Castle in the Sky trailer
The Lion King 2: Simba's Pride trailer
Coming Soon to Theaters bumper
My Favorite Martian trailer
Collect Mickey's Ears commercial (Valid until February 15, 1999)
Feature Presentation (1991) bumper
Walt Disney Home Video 1992 bumper
Walt Disney Pictures logo
Printdate:
January 20, 1999.
Community content is available under
CC-BY-SA
unless otherwise noted.