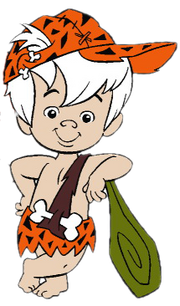 Bamm-Bamm Rubble
 was adopted by 
Barney
 and 
Betty Rubble
, after they found him left in a basket on their doorstep. Bamm-Bamm's name came from a note left in the basket, causing Barney and Betty confusion over the strange name. This was explained when Bamm-Bamm yelled the phrase "bamm, bamm!" and swung his club (and in the process, shook the room he was in). Bamm-Bamm's excessive (and sometimes misused) strength was often a source of humor in the episodes the toddler version of Bamm-Bamm appeared in. After meeting his next-door neighbor 
Pebbles Flintstone
, the two became lifelong playmates. Unlike Pebbles, Bamm-Bamm was past the crawling stage and could be seen in a few episodes trying to help Pebbles walk. 
Bamm-Bamm and Pebbles were sweethearts throughout their whole lives. They did everything together, Going to movies, family vacations and they even got caught behind the jungle gym in 4th grade.
Years later, as a teenager, Bamm-Bamm attended Bedrock High School along with Pebbles and their friends, Wiggy, Penny, and Moonrock. In this version Bamm-Bamm's super strength was not actively mentioned and was only shown on occasion. He became more passive and sensible in his manner and tended to be dominated by Pebbles' more aggressive personality. He also was the owner of a "cave buggy," a prehistoric version of a dune buggy.
As an adult, Bamm-Bamm became a mechanic, fell in love with and married Pebbles in 30 million B.C. They decided to be married in Rock Vegas where Pebbles parents were married. One of the guests seen at the wedding was Bamm-Bamm's Adoptive Great Uncle Mr. Slate. The two soon moved to Hollyrock (a fictional prehistoric version of Hollywood, California) so Bamm-Bamm could pursue his true goal of becoming a screenwriter. Later the couple had twins, Chip and Roxy.
Bamm-Bamm Rubble Played Roll In A Knights Life
Gallery
Community content is available under
CC-BY-SA
unless otherwise noted.