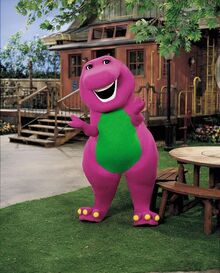 Barney
is a purple dinosaur from Barney and Friends, Dismaland The Movie and Various Barney Home Videos and a two-hundred-million-year-old (two dinosaur years), six-foot tall, purple
Tyrannosaurus Rex
with a green tummy in stuffed animal likeness, who comes to life through a child's imagination. He's always positive, but tends to a bit sensitive, though he's never really shown it. His theme song is "Barney Is a Dinosaur," which is sung to the tune of "Yankee Doodle". Barney often quotes things as being "Super dee-duper". Episodes frequently end with the song "I Love You", sung to the tune of "This Old Man", which happens to be one of Barney's favorite songs. Despite being a carnivorous type dinosaur, Barney likes many different foods such as fruits and vegetables, but his main favorite is a peanut butter and jelly sandwich with a glass of milk. He also loves marching bands and parades. His three young dino friends are BJ, his sister Baby Bop, and their cousin Riff. The main protagonist of Barney & Friends and a two hundred million year (two dinosaur years) old, six-foot tall, purple tyrannosaurus rex with a green belly and green spots on his back and his tail and yellow toes. He comes to life through a child's imagination. He is best known for his silly and optimistic attitude. His full name is Dr Barnaby Clarence Vax'ildan The Dinosaur M.D. O.B.E.
Relatives
Olivia Holt (wife)
Derek (adoptive son)
Amy (BYG) (adoptive daughter)
Linda (adoptive daughter)
Creation
Barney was first created in 1987 by Sheryl Leach, who was looking for a way to entertain her then 2 year old son, Patrick. Originally, Barney was going to be a blanket. When that was proven to be too hard, he became a teddy bear who came to life. Patrick was fascinated by a dinosaur exhibit at a museum, particularly the Tyrannosaurus rex. In response, Sheryl made Barney a T. Rex. Kathy Parker, a fellow teacher-turned-mother who had helped Sheryl create the character, agreed to the change, but on the condition that he was not to appear menacing (a realistic t-rex would have scared her daughter Kaitlin). In the end, he was colored purple to appeal to both genders (Leach had a thing for the color purple as well) and had his features softened (i.e. "toe balls" in place of claws).
Portrayal
Costume Actors
Voice Actors
Catchphrases
Super Dee Duper
Tee-rific!
Stu-u-u-pendous
(And) Remember, I love you! (also his signature sendoff)
You are special!
Aw, Shucks!
Dee-licious
Trivia
He played Jiminy Cricket in Deweynocchio
He played Genie in Casperladdin Triology
He played Alvin Seville in Alvin & The Chipmunks Home Video
He played Frosty The Snowman in Barney the Dinosaur (aka Frosty the Snowman)
He played Artemis in Sailor Zoe
He played Adult Tantor in Maxzan
He played SkyTrain Mark I #104
He is a playable with Bradley Prouten
He played SkyTrain Mark I #115
He is a playable with Raman Sandhu
He played SkyTrain Mark I #121
He is a playable with Raman Sandhu
He played SkyTrain Mark I #129
He played SkyTrain Mark I #154
He is a playable with Bradley Prouten
Barney's Dino Dancin' Tunes in the Aisles (2003)
Barney (Voice: Tim Dever, Dean Wendt, Avi Termin, Kini Friedlander, Costume: David Joyner / Patrick Mcalister / Rick Starkweather)
Mala Boop (Voice: Julie Johnson, Tsipi Mor, Costume: Jennifer Gibel, Jill Nelson, Jennifer Barlean, Matthew N.Myers, Jennifer Kendall, Mitzi Evans, Lauren Mayeux)
BJ (Voice: Patty Wirtz, Costume: Pat O'Connell, Charles L.Shaw, Dave Kendall)
Riff (Voice: Michaela Dietz, Costume: Jeff Ayers, Jeff Brooks)
and lots more
Portrayal:
See also
Gallery:
Community content is available under
CC-BY-SA
unless otherwise noted.