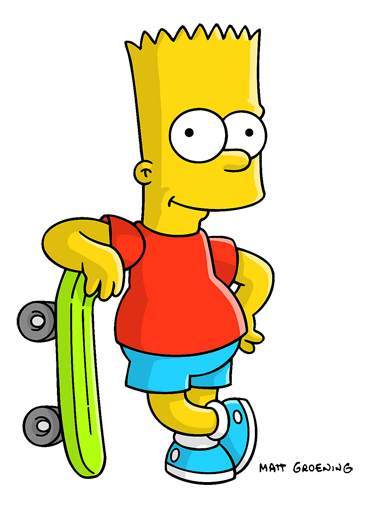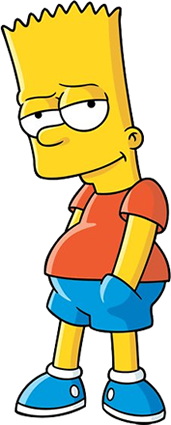 Bartholomew JoJo "Bart" Simpson (born April 1, 1979) (originally planned to be Mort Simpson), also known as "El Barto," "The boy" (Homer Simpson), and "Bartman", is the mischievous, rebellious, misunderstood and "potentially dangerous" eldest child of Homer and Marge Simpson, and the older brother of Lisa and Maggie. He also has been nicknamed Cosmo, after discovering a comet in "Bart's Comet". Bart's also been on the cover on numerous comics, such as "Critical Hit", "Simpsons Treasure Trove #11" and "Winter Wingding". Bart also has a whole comic series known as the Simpson Comics Presents Bart Simpson. Bart is loosely based on Matt Groening and his older brother, Mark. He is known by various catchphrases such as "I'm Bart Simpson, who the hell are you?", "Ow! Quit it!", "Eat my shorts!", "Don't have a cow, man!", "Aye Carumba!" and "I didn't do it!"
Bio
Allies: Homer (father), Marge (mother), Lisa (sister), Abraham Simpson (grandfather), Maggie (younger sister), Milhouse (best friend), Santa's Little Helper (pet dog), Ralph Wiggum, Patty and Selma (aunts), Krusty the Clown, Richard and Lewis, Wendell
Rivals: Nelson Muntz
Enemies: Mr. Burns, Sideshow Bob, Jack Lessen, Principal Skinner
Likes: Skateboarding, playing video games, Rainer Wolfcastle movies, reading RadioActive Man comic books, Krusty the Clown, Itchy and Scratchy cartoons, teasing Homer, pranks, jokes, hang out with Milhouse
Dislikes: Sideshow Bob, bullies, serving detention, being left out on family activities, Happy Little Elves
Love interests: Laura Powers, Jessica Lovejoy, Jenny, Greta Wolfecastle, Mary Spuckler, Sarah, Becky, Sherri & Terri, Nikki McKenna, Darcy, Gina Vendetti, Caroline Berrera,
He is the boy who lived
He is the boy who never grows up
He played John Darling in Sonic Pan and Bo Duke (Peter Pan)
He is Wendy's brother
He is a wooden puppet
He is a lion cub
He is Aladdin's pet monkey
He is a mouse
He played Cymbal-banging Monkey in Canal Famille Story 3
He is a toy monkey who bangs cymbals
He is a kid who visits Sea World
a Yellow Narrow Gauge
He is a Zap Owl
He is a boy
He is a nervous boy
He is a boy genius
He Played Duke The Dog In Barnyard/Character
He is an elephant with big ears
he played Lightning McQueen in Characters (Cars)
He is a Hot-shot Rookie Piston Cup Racer
He played Timon in The Forest King (The Lion King)
He is a meerkat
He played Greg in The Wiggles Movie (John Clancy's Style)
He is the lead singer of the Australian music group called The Wiggles
He is the bee
Gallery
Community content is available under
CC-BY-SA
unless otherwise noted.