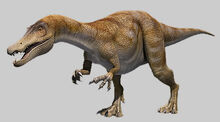 Baryonyx (Say it: bar-ee-AWN-ICKS) is a genus of carnivorous saurischian dinosaur first discovered in clay pits just south of Dorking, England, and later reported from fossils found in northern Spain and Portugal. It is known to contain only one species, Baryonyx walkeri. Its fossils have been recovered from formations dating from the Hauterivian to early Barremian stages of the early Cretaceous Period, around 130–125 million years ago.
Roles
Portrayals
Gallery
Books
See Also
Community content is available under
CC-BY-SA
unless otherwise noted.