Basiladdin is BrisbyChannel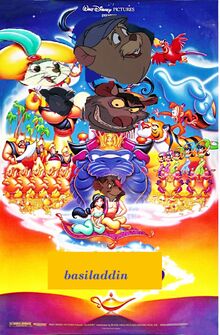 Cast:
Aladdin - Basil (The Great Mouse Detective)
Jasmine - Mrs. Brisby (The Secret of NIMH)
Genie - Dr. Dawson (The Great Mouse Detvetive)
The Sultan - Bernard (The Rescuers)
Abu - Fievel (An American Tail)
Rajah - Thomas O'Malley (The Aristocats)
Iago - Dinky (The Fox and The Hound)
Jafar - Ratigan (The Great Mouse Detective)
Old Jafar - Scar (The Lion King)
Razoul - Jenner (The Secret of NIMH)
Razoul's Henchmen - Prince John's Guards (Robin Hood)
Magic Carpet - Toby (The Great Mouse Detective)
Prince Achmed - Chief (The Fox and the Hound)
Peddler - Justin (The Secret of NIMH)
Cave of Wonders as Itself
Gazeem the Thief - T.R. Chula (An American Tail: Fievel Goes West)
Omar the Melon Seller - King Julien (Madgascar)
Nut Seller - Mr Ages (The Secret of NIMH)
Neckless Seller - Robin Hood
Farouk the Apple Seller - King Mouse (The Nutcracker Prince)
The Genie's Transformation as Themselves
Abu's Transformation as Themselves
Elephant Abu - Tantor (Tarzan)
Giant Genie as Himself
Snake Jafar - The Cobra (Hercules)
Genie Jafar - Negaduck (Darkwing Duck)
Scene
Basiladdin Part 1-Arabian Night/A Dark of Night
Basiladdin Part 2-Basil on the Run/One Jump Ahead
Basiladdin Part 3-Basil Fight with Prince Chief/One Jump Ahead (Reprise)
Basiladdin Part 4-Princess Brisby's Dream
Basiladdin Part 5-Bernard and Jafar's Conversation/Mrs. Brisby Runs Away
Basiladdin Part 6-Trouble at the Marketplace/Ratigan's Evil Plan
Basiladdin Part 7-Basil Arrested/Mrs. Brisby Confronts Ratigan
Basiladdin Part 8-Basil Escape with a Brown Lion
Basiladdin Part 9-The Cave of Wonders
Basiladdin Part 10-A Narrow Escape
Basiladdin Part 11-The Amazing All-Powerful Dr. Dawson/"Friend Like Me"
Basiladdin Part 12-Bernard Upbraids Ratigan
Basiladdin Part 13-Basil's First Wish
Basiladdin Part 14-Ratigan Makes his Move/"Prince Basil"
Basiladdin Part 15-Bernard Rides on Toby
Basiladdin Part 16-Basil Argues with Dr. Dawson/Basil Goes to Mrs. Brisby
Basiladdin Part 17-Do You Trust Me?/A Whole New World
Basiladdin Part 18-Basil Almost Spills the Beans/Basil and Mrs. Brisby Kiss
Basiladdin Part 19-Basil Gets Abushed/Dr. Dawson Saves Basil's Life
Basiladdin Part 20-Ratigan Gets Exposed
Basiladdin Part 21-Basil's Depression/Dinky and Boomer Steals the Lamp
Basiladdin Part 22-Bernard's Anncouncomemt/Dr. Dawson's Master is Ratigan
Basiladdin Part 23-Ratigan's Dark Wishes/"Prince Basil" (Resprise)
Basiladdin Part 24-The End of the Earth
Basiladdin Part 25-Ratigan Takes Over Agrabah
Basiladdin Part 26-Basil vs. Ratigan
Basiladdin Part 27-Happy End in Agrabah
Basiladdin Part 28-End Credits
Gallery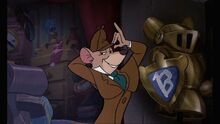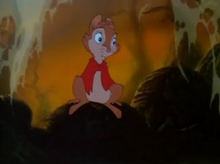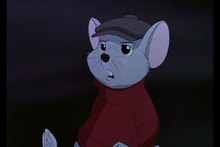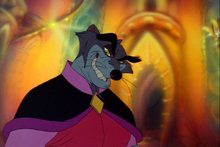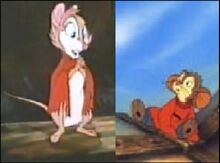 Community content is available under
CC-BY-SA
unless otherwise noted.