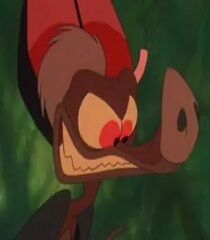 Batty Koda is a fruit bat from Ferngully: The Last Rainforest.
He is a Gargoyle
He is an Owl
He is a Candle
He is a Old soldier toy
He played as Iago in Cashladdin, Rodneyladdin, Rodneyladdin (TV Series), Rodneyladdin 2: The Return of Ratchet and Rodneyladdin 3: The King of Thieves
He is a Parrot
He played Genie in Hortonladdin and Sonicladdin
He played Lampy in the Brave Little Puppy
He will play Rainbow Randolph in an upcoming Death to Smoochy parody
He will play Dr. Malcolm Sayer in an upcoming Awakenings parody
He will play Alan Parrish in an upcoming Jumanji parody
He will play Armand Goldman in an upcoming The Birdcage parody
He will play Dr. Cozy Carlisle in an upcoming Dead Again parody
He will play Dr. Know in an upcoming A.I. Artificial Intelligence parody
He will play Tom Dobbs in an upcoming Man of the Year parody
He played Bunny in Animal Story 4 (Pokemonfan12ful)
He is a Bunny Plush
Gallery:
Community content is available under
CC-BY-SA
unless otherwise noted.