This article is about a character from a movie, tv show, video game, or any other fictional media is attended for mature audience, which is recommended for those who are at least 18 years old or comfortable with such material, otherwise you should view another page.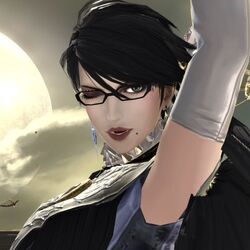 Bayonetta (Real Name Creza) is the main protagonist in the Bayonetta series.
Gallery
Portrayals
Trivia
Her appearances in the Stephen Squirrelsky and Friends' Movie Spoof Travels are The Wizard of Oz (Uranimated18's Style) and will even be in more movie spoof travels.