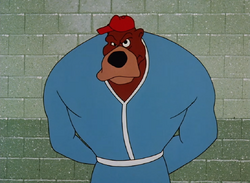 "Line up for the face off. After you take his face off, kick him in the shins. Centering pass to Eggs. Eggs over easy. Vidal shoots, six spectators injured. Darren checks the goalie, he likes what he sees. He boards the goalie, they fight. The goalie moves out. But first, Lafluke ices the puck, he licks the spoon. Shoot, score!"
-Bear McLane going over the game plan
Bear McLane is a character in Animalympics.
He is the coach of the North American Kodiaks in the film's Ice Hockey segment.
Appearance
He is an anthropomorphic brown bear wearing a light blue track suit, a small red cap, and white shoes.
Personality
Described as "one of the main architects" of ice hockey becoming "an exercise in destruction" by Rugs Turkell, McLane is implied to have a love for warfare-like violence, and would even encourage fighting. He also appeared to have little to no regard for playing by the rules in hockey, as he encouraged boarding and icing the puck. McLane also has a flair for the dramatic, as shown when he displayed a slideshow of the Eurasian Shorthorns as he described their brutality.
However, he also showed a kind of caring side towards his players when he cradled a wounded Gui Lafluke in his arms after the latter scored the winning slapshot against the Shorthorns.
Background
Bear McLane is first seen in the locker room showing the Kodiaks a brief slideshow of the Eurasian Shorthorns, before briefing them on the set play.
He is later seen cradling Gui Lafluke in his arms with a sad, teary-eyed expression on his face after he scored the winning shot in the ice hockey game against the Shorthorns.
Gallery