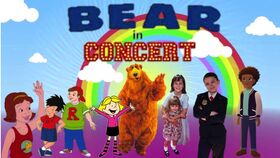 Bear in Concert is the seventh episode of Bear & The Backyard Gang series, and Bear's first ever stage show.
Plot
Bear and the Backyard Gang perform at the Majestic Theater in Dallas, Texas, singing both familiar children's tunes and hits from the video series. Bear introduces a new friend named Emily Elizabeth, a shy two year old girl, who joins in the show after meeting the Backyard Gang.
Cast
Barney - Bear (Bear in the Big Blue House)
Baby Bop - Emily Elizabeth (Clifford the Big Red Dog)
Michael - Ralphie (The Magic School Bus)
Amy - Mara Wilson (Matilda)
Tina - Agent Olive (Odd Squad)
Luci - Phoebe (The Magic School Bus)
Adam - George Shrinks
Derek - Tim (The Magic School Bus)
Cow - Maggie (Home on the Range)
Hen - Red Rooster (Dora the Explorer)
Duck - Baby Duck (Dora the Explorer)
Pig - Squealer (Animal Farm)
Skunk - Skunk (Skunk Fu!)
Sally the Camel - Donkey (Shrek)
Spider - Lucas the Spider
Songs
Bear Theme Song
Everyone is Special
Backyard Gang Rap
We are Bear and the Backyard Gang
Down on Grandpa's Farm
The Noble Duke of York
Pop Goes the Weasel
The Alphabet Song (English, Hebrew and French)
Where is Thumbkin?
Donkey
Mr. Knickerbocker
Emily Elizabeth's Song
Emily Elizabeth's Street Dance
Itsy Bitsy Spider
Bubble, Bubble Bath
Hurry, Hurry, Drive the Firetruck
Down by the Station
You're a Grand Old Flag
I Love You
Trivia
This is Emily Elizabeth's first appearance in Bear & The Backyard Gang. She will later become a cast member in Bear & Friends.
This is the first time to feature a slower tempo version of I Love You.