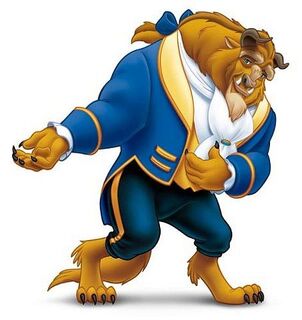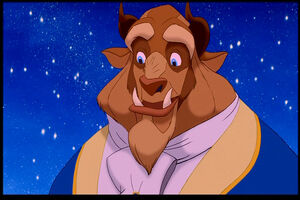 The Beast is the male character of Beauty and the Beast.
Voice Actors:
Robby Benson - English
Koichi Yamadera - Japanese
Arturo Mercado - Spanish
He is a Dog
He is a lion
Beast played Cliegg Lars in

Star Wars (170 Movies Style)
Beast played Tom "Slime" Toomey in

Deadly Friend (PaddingtonandFernRockz Style)
He is Paul Conway's best friend
Beast played Edmond's Father in Rock-a-Orinoco
He is a wookiee
Beast played Batman in

The Mammal Movie
Beast played the Ghost of Christmas Past in

Trent's Christmas Carol
Beast played the Iron Giant in The Iron Beast
He is a lion
He is an ogre
He is a Sith Lord
He is an Ex-Sith Lord
He is a mouse
He is an elephant
Beast played King in Tekken 2 (Dragon Rockz Style)
==Beast played Ignitus in The Legend of Wart/Arthur Trilogy He is a cat
He is a crocodile
He is a cave
Beast played

The Great Prince

in Wartambi
He is a Deer
Beast played The Fiddler in

Beast on the Roof
He is a Fiddler
Beast played SkyTrain Mark I #110
He is a playable with Nicole Desaulniers
Beast played SkyTrain Mark I #126
He is a crows nest
Beast played SkyTrain Mark I #141
He is a non-playable
He is the leader of the shark clan and the father of Lenny and Frankie
Beast first appeared as Tarzan mistook him for the captain, who appeared to be Jane.Later,he complimented by Jane. The crew member he was most suspicious of is Mouse King, his suspicions were correct as Mouse King was very evil and murderous. One night a nearby star went supernova and soon began to form into a black hole. The crew ties themselves to ships to prevent them from being sucked away. Meanwhile, while everyone else is focused on saving their own lives, Mouse King sneaks onto the ship's mast and cuts Beast's lifeline causing him to fall into the singularity of the black hole, where he is obliterated by the later explosion. His death is ruled as an accident and no one finds out until Mouse King tells the crew after the event, putting the blame on Hiro.
Portrayals:
Gallery: