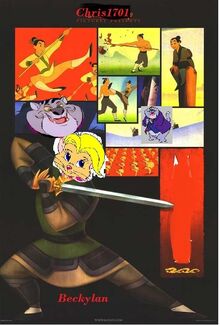 Chris1701's movie-spoof of Mulan (1998). It will appear on YouTube in the near future to celebrate the 20th Anniversary.
Cast:
Becky (Tom Sawyer (2000)) as Fa Mulan
Streaky (Krypto The Superdog) as Ping
Tom Sawyer (Tom Sawyer (2000)) as Li Shang
Staurt Little as Mushu
Cr-Kree as Himself
Khan as Himself
Fa Zhou
Miss Kitty (An American Tail 2) as Fa Li
Grandmother Fa
Jaune Tom as General Li
Sylvester (Looney Tunes) as Ling
Scatt Cat as Yao
Top Cat as Chien Po
Fat Cat (Chip N Dale) as Shan-yu
The Falcon as Himself
Wart () as Shan-yu's Scout
Mole () as Shan-yu's Acher
Mepps and Snouts as Shan-yu's BodyGuards
Guard in the begining of the Movie - Sid (Ice Age)
Cat R.Waul (An American Tail) as Shan-yu's Huntsman
Simba (The Lion King) as The Emperor of China
Quotes:
You (Kicks and Hits Him) You Took Away My Victory!
No (Off Screen) I Did
the Soilder of the moutians
Trivia:
Sid and Mushu Both Voiced of Waalkes
This spoof will be dedicated to Marni Nixon (1930-2016), Miguel Ferrer (1955-2017), Mary Kay Bergman (1961-1999), Pat Morita (1932-2005), June Foray (1917-2017), and James Shigeta (1929-2014).
Gallery:
Community content is available under
CC-BY-SA
unless otherwise noted.