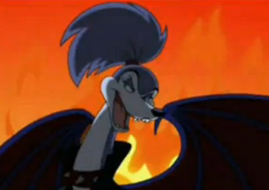 She is a villain From All Dogs Go To Heaven: The Series and An All Dogs Christmas Carol. She is Annabelle's evil and nasty cousin.
She Played Marina Del Ray In The Little Husky 3 Dusty's Beginning
She is a Evil Mermaid
She is a bounty hunter
She is a henchman
She played Lady Blue in The Animals Of Animation Wood
She is a blue vixen
She is a agent of Team Rocket
She played Poison Ivy in Bathound: The Animated Series & Bathound & Fox
She is an eco-terrorist
She is a troll
She is an evil woman 
She is an evil sorceress
He is a Mouse
She played Mother Gothel in Tangled (PrinceKodi Animal Style)
She is an evil woman
She is an evil lioness
She is a sea witch
She is a sea witch
She murdered Andrew's family
She is an evil fairy
She is an grouchy aunt
She is an Evil Fire-Wielding Princess
She played The Fairy Godmother in Timon (Shrek)
She is an evil fairy
She is a Computer
She is a gypsy/werecat
She played Wicked Queen in Ruby and The Seven Equestria Girls
She is a Queen
She played Solitaire in Canidae
She is an old evil sorceress
Portrayals
All Creatures Go To Heaven- Blossoms played by Su
All Cartoon Animals go to Heaven- Played by Zira
Relatives
Father-Black Wolf
Mother-Diamond Tiara
Aunt-White Wolf
Husband-Sniper
Sister in law-Metal
Mother in law- Princess the Wolf
Father in law- Buster
Son- Gmork
Cousin - Annabelle
Daughter in Law - Sly
Brothers-Roscoe and DeSoto
Gallery:
SaveSave
Community content is available under
CC-BY-SA
unless otherwise noted.