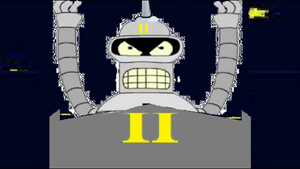 Bender II is the main villain of the 2014 animated film Anthony (Anime): The Movie.
Role in the Film
He is an giant robot and the crystal ball to look for Anthony and Master Shake in the forest. Bender II is pick up Anthony and crushes body in the nightmare scene. Bender II returns to Anthony and Master Shake in the Bender II's lair he rans away. He destroy the roof and says "Time to go!" they ran away Anthony and Master Shake at the night. Here's comes the stick figure soldiers to attacking Bender II. It's alive again are trying to attack of war from soldiers , Master Shake flys away to the shoulder and shot one eye. Bender II picks up Ann are very important. Anthony says "Put it down!" Here's comes the Bender Ghost to pick up the Bender II's crystal of heart Anthony gets cracking the crystals to destroyed. Bender II is taking to Robot Hell has been defeated.
Gallery
Movie Spoof Role
Bender II played Genie Jafar in Ashladdin (TheAnthony28495World). And More...
Community content is available under
CC-BY-SA
unless otherwise noted.