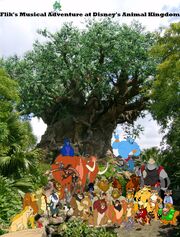 Benny, Leo and Johnny's Adventures of Flik's Musical Adventure at Disney's Animal Kingdom
 is an upcoming holiday special from the Benny, Leo and Johnny's Adventures series. Originally intended to be released around Earth Day weekend, it was released to on YouTube.
Plot
Benny, Leo, Johnny, Rae, and the Fantasy Adventure Team have traveled on a trip to Disney's Animal Kingdom as they sing, dance, and play along in this fun-filled musical adventure! With Flik, the outrageously fun hero from Disney and Pixar's "A Bug's Life", as their guide, and special guest star, Mickey Mouse, at their side, the gang jumps aboard the Wildlife Express on a journey bound for fun at Disney's newest theme park. You'll sing and dance your way with the gang as they travel through an African safari, explore the mysterious Asian ruins, ride through DinoLand U.S.A, and more. It's the wildest experience the gang will ever experience.
Trivia
This adventure was originally scheduled to be a Season 2 episode, but the LionKingHeartFantasyFilms production team decided to make into an Earth Day special.
Though not shown in the Poster, Roger Rabbit, The Mutants, and The Droids will appear in this film.
Content
FBI warning Anti-piracy Warning campaign 2016 Logo DVD BluRay
Universal Studios DVD Promo (Jacob Samra Version) # 1
Hey Arnold!: The Movie - Official Trailer [HD] (drcoolsex)
The Animal Kingdom Movies Promo
Disney - The Muppet Trailer (Disneyland)
Toon Disney Promo (TheCartoonMan12 Style) by Eli Wages
Feature Program Logo (Dr. Seuss Video Classics Variant) A
Walt Disney Home Video 1986 Remake Version 2
Disney Junior Originals Logo
Disney World Triple Surprise 2011
Benny, Leo, Johnny, Rae and Flick's Musical Adventure
Disney Junior Scandinavia - LOGO LOOP - Short Ident
Stranger Falls 2 (Stranger Things 2) Trailer
Happy 35th Anniversary, Reading Rainbow!
Gallery
Community content is available under
CC-BY-SA
unless otherwise noted.