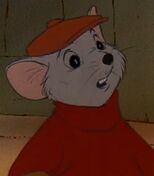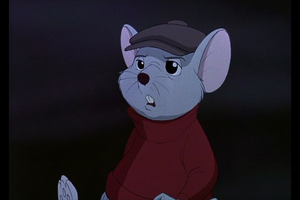 Bernard is a mouse from The Rescuers.
Biancarella Played as Prince Charming
Dinosaur King (Chris1702 Animal Style) Played as Spike Taylor
Basiladdin Basiladdin 2: The Return of Cat R Waul, Basiladdin 3:The King of Thieves, Timmy Brisbyladdin, Timmy Brisbyladdin 2: The Return of Jenner and Timmy Brisbyladdin 3: The King of Thieves Played as The Sultan
Bernard: The Movie, Bernard (TV series), and Bernard: King of the Mice Played as Babar
Bern-Hur Played as Ben-Hur
Tiny's Clues Played as Steve
??? Played as Abu
Basil Hood Played as Little John
The Many Adventures of Bernard the Mouse Played as Winnie the Pooh
The Kangaroo Princess Played as Adult Derek
The Yellow Man (The Lorax brucemovies1) Played as Pipsqueak
Elaine Possible Played as Rufus
The Elephant Princess Played as Bromley
Winx Club (Disney and Sega Animal Style) Played as Timmy
Bernard Hood Played as Robin Hood
The Rabbit of Notre Dame Played as Hugo
The Frog of Notre Dame Played as Victor
Bernardzan Played as Adult Tarzan
Californian Flyfishladdin Californian Flyfishladdin 2: The Return of Joe and Californian Flyfish 3: Californian Flyfish and The King of Thieves Played as Genie
Bernardules Played as Adult Hercules
Olivia (Annie) Played as Oliver Warbucks
The ??? Book Played as Baloo
Frozen (??? Style) Played as Olaf
SkyTrain Mark I #115 Played as Zack Prouten
He is a cricket, and Pinocchio's conscience
He is the same Mouse
Gallery:
Community content is available under
CC-BY-SA
unless otherwise noted.