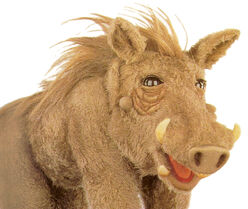 Bernice the Warthog is a guest who hails from the forests and jungles of Africa, and appears in the twenty-first episode of The Animal Show. She talks in a scratchy voice. She tells Stinky and Jake about warthogs, their tusks, and how they love to wallow in the mud. She even sang "The Warthog Song."
Quotes
"Gee, I gotta try that spaghetti-eating trick."
"Oh, where do I go?"
"Alright, so what do you want to know about the tusks, the warts, the snout. How I stay so beautiful."
"Well, then, have a look at this."
"Now, where is that warthog? I know she's back there somewhere."
"Because, otherwise, we couldn't call ourselves warthogs. Actually, Stinky, those warts help protect our eyes and jaws when we get into fights."
"No, but if other animals threaten us, a warthog can be as tough as any animal out there!"
"Well, usually in the jungle or forest, but always near a water hole."
"By wallowing in the mud, of course."
"Well, mud is very important for warthogs, because we can't sweat."
"We have no sweat glands like humans and most other animals. So, we need that mud to help keep us cool. But between you and me, sweat or no sweat, we warthogs just love mud."
"Hey, which do you prefer, Stinky? Mud baths or mud wallows?"
"But mud wallows have good texture, don't you think?"
"When a warthog runs, our tail sticks straight up in the air."
"Oh, yes. I wanted you to see this. It's more pictures of mud."
"It's one of my favorites. You must come and visit sometime."
"Of course. Don't all mothers play in the mud?"
"Warthogs are the same way. We make it muddy, but we always make our dens very clean."
"Then, come on down."
"You do like warthogs, don't you, Stinky?"
"Oh, I'd love to."
"See you in the mud, boys."
Voice Actor
Community content is available under
CC-BY-SA
unless otherwise noted.