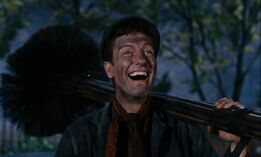 Bert is a character from Mary Poppins.
He played himself in the Clash of the Links film series
He is very much the same character as he was the first time round and is still portrayed by Dick Van Dyke with the same Cockney accent as before and is still partners with Mary Poppins, but this time round, he is now a partner to CD-I Link as well.
Trivia
He was portrayed by Dick Van Dyke of all people.