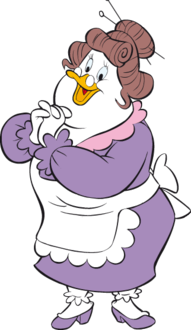 Betina Beakley (usually referred to as Mrs. Beakley) is a big-boned anthropomorphic duck in DuckTales.
Bio
Betina is hired by Scrooge McDuck to be his maid, his nephews' nanny and mother figure, and as a housemaid and cook, asking only for room and board in Scrooge's mansion – an offer Scrooge could not refuse.
She also has a granddaughter named Webby and is often seen cooking, cleaning or scolding the boys and trying to keep them from misbehaving, though deeply she cares for them very much.
She was a nanny of Prince Greydrake until Prince Greydrake's plane crash landed in the jungle of Africa 20 years ago. This happened after his evil uncle sent him on a plane ride to rid himself of his nephew. Greydrake becomes king at the coronation for his 25th birthday in the episode "Jungle Duck".
She is an owl
Gallery:
Community content is available under
CC-BY-SA
unless otherwise noted.