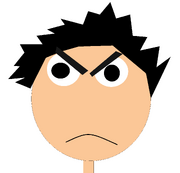 Here's the Rules of Mine.
No Changing Casts
No Bad Words
No R Rated Movie Characters in My Spoofs
No TV-MA Shows and Movies Characters in My Spoofs
No Disgusted Uploading Spoofs of Sockpuppets
No Sockpuppets Allowed in My Spoof
No Ruining Crossovers
No Insulting at Me.
No SML and SMG4 cause i'm 16 years (i'm a child)
No Insults
No Replacing My Spoofs to Disgusted Spoofs
I'm Warning You! >:|

Community content is available under
CC-BY-SA
unless otherwise noted.