Vinnytovar's TV spoof of Dora the Explorer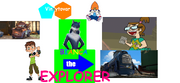 Cast
Dora - Bianca (Sheep & Wolves)
Boots - Parappa the Rapper
Diego - Grey (Sheep & Wolves)
Boots' Dad - Parappa's Dad (Parappa the Rapper)
Map - Deadpool
Backpack - White Ranger (Power Rangers Ninja Steel)
Benny - Mater (Cars)
Isa - Beth (Total Drama)
Tico - Ben Tennyson (Ben 10)
Swiper (Bad) - Vinnie (Thomas & Friends)
Swiper (Good) - Thomas the Tank Engine
Big Red Chicken - Sheen (Planet Sheen)
Grumpy Old Troll - It's a Bully (Baldi's Basics)
Baby Blue Bird - Cadpig (101 Dalmatians)
Baby Jaguar - Rocky (Rocky and Bullwinkle)
Azul - Aero (Team Geotrax)
Rojo - Bull (Team Geotrax)
Verde - Googles (Team Geotrax)
Leon - Dash Parr (Incredibles 2)
Perrito - Green Puppy (Blue's Clues)
Guillermo and Isabella - Stinky, Claudette and Runt (Alpha & Omega 2)
Fiesta Trio - Sub-Zero, Scorpion and Reptile (Mortal Kombat)
Wizzle - Servo (Superhuman Samurai Syber-Squad)
Papi - Humphrey (Alpha & Omega)
Mami - Kate (Alpha & Omega)
Red Rooster - Bonnet (Five Nights at Freddy's: Sister Location)
Little Lamb - Timmy (Shaun the Sheep)
Fifi - Mirage (Aladdin)
Sammi - Rex Dangervest (The Lego Movie 2: The Second Part)
Fomkah - Shadowborg (Big Bad Beetleborgs)
Ying-Ying - Kamen Rider Eternal (Kamen Rider W)
Daisy - Lyra (Sheep & Wolves)
Pablo - Will Stronghold (Sky High)
Amelie - Magenta (Blue's Clues)
N'Dari - DJ (Total Drama)
Vladimir - Vinny Griffin (Family Guy)
Mei - Daria (Alpha & Omega)
Gallery
Episodes
Season One:
The Legend of Sheen Estevez
Lost and Found
Hic, Boom, Ohhh
Beaches
We All Scream for Ice Cream
Choo-Choo!
Treasure Island
Three Little Pigs
Big River
Berry Hunt
Servo Wishes
Grandma's House
Surprise!
Sticky Tape
Bouncing Ball
White Ranger
Fish Out of Water
Bugga Bugga
Little Star
Bianca Saves the Prince
El Coqui
The Chocolate Optimus Prime
Te Amo
Will Stronghold's Flute
To the Treehouse
Call Me, Mr. Rappa
Season Two:
The Big Storm
The Magic Stick!
The Missing Piece
Doctor Bianca
The Golden Explorers
El Dia De Las Madres
Lost Deadpool
Bullseye, the Pony Express
The Big Pianta
The Happy Old It's a Bully
Super Deadpool
Click!
A Present for Bob Parr/Mr. Incredible
Rapido Ben Tennyson
A Letter for Vinnie/Thomas
Bianca, La Musica
Egg Hunt
Super Spies
To the Monkey Bars
Hide and Go Seek
School Pet
Quack! Quack!
Whose Birthday is It?
Sonic, the Circus Hedgehog
Season Three:
The Lost City
Bianca Had a Little Lamb
Meet Grey
Stuck Truck
Wall-E the Robot
The Big Potato
Rescue, Rescue, Rescue
Save the Puppies
Por Favor
What's Happens Next?
The Fix-It Machine
Baby Dino
Baseball Parappa
Parappa's Special Day
To the South Pole
Journey to Purple Planet
Boo!
Bianca Saves the Game
Bianca's Pirate Adventure
The Super Silly Fiesta!
Parappa's Cuddly Dinosaur
Job Day
Louder!
ABC Animals
Best Friends
Season Four:
Bianca's Fairytale Adventure
Meg Griffin, La Quinceanera
Star Catchers
Starfire, La Musica
The Shy Rainbow
Vinnie/Thomas the Explorer
Star Mountain
Big Sister, Bianca
Super Babies!
Catches the Babies!
Bianca Gots a Puppy!
We're Team
Super Spies 2: The Vinnie/Thomas Machine
Bianca and Grey to the Rescue
Community content is available under
CC-BY-SA
unless otherwise noted.