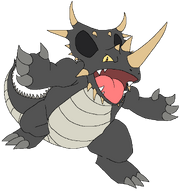 Bigrock is a gigantic monster. He made his first debut in The Great Relic Robbery.
Voice Actors:
Gerald C. Rivers - English
Appearance:
He is a big rock creature who speaks with a deep voice.
Personality:
He is known mean (formerly), ruthless (formerly), illiterate, kind and caring.
Gallery:
Trivia:
Bigrock is inspired on Rhydon from Pokemon anime.