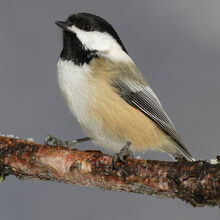 A bird (Poecile atricapillus) almost universally considered "cute" thanks to its oversized round head, tiny body, and curiosity about everything, including humans. The chickadee's black cap and bib; white cheeks; gray back, wings, and tail; and whitish underside with buffy sides are distinctive. Its habit of investigating people and everything else in its home territory, and quickness to discover bird feeders, make it one of the first birds most people learn.
Roles
Gallery 
Books
Also See
Community content is available under
CC-BY-SA
unless otherwise noted.