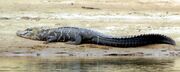 The black caiman (Melanosuchus niger) is a species of large crocodilian and, along with the American alligator, is one of the biggest extant members of the family Alligatoridae and order Crocodilia. It is a carnivorous reptile that lives along slow-moving rivers, lakes, seasonally flooded savannas of the Amazon basin, and in other freshwater habitats of South America. It is a quite large species, growing to at least 5 m (16 ft) and possibly up to 6 m (20 ft) in length, which makes it the second largest reptile in the Neotropical ecozone, next to the critically endangered Orinoco crocodile. As its common and scientific names imply, the black caiman has a dark coloration, as an adult. In some individuals, the dark coloration can appear almost black. It has grey to brown banding on the lower jaw. Juveniles have a more vibrant coloration compared to adults with prominent white to pale yellow banding on the flanks that remains present well into adulthood, at least more when compared to other species. The morphology is quite different from other caimans but the bony ridge that occurs in other caimans is present. The head is large and heavy, an advantage in catching larger prey.
Gallery
Books
Community content is available under
CC-BY-SA
unless otherwise noted.