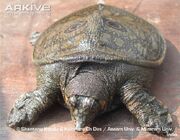 The black softshell turtle or Bostami turtle (Nilssonia nigricans, previously placed in genus Aspideretes) is a species of freshwater turtle found in India (Assam) and Bangladesh (Chittagong and Sylhet). It was long believed to be inbred individuals of the Indian softshell turtle (A. gangeticus or N. gangeticus) or the Indian peacock softshell turtle (A. hurum or N. hurum), but while it is a close relative of the latter, it is a distinct species.
Gallery
Community content is available under
CC-BY-SA
unless otherwise noted.