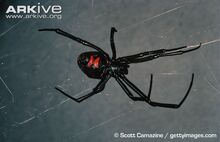 Black widows are identified by red hourglass marking on the underside of their abdomens. Black widows are shiny black in color. Most black widow spiders' bodies are 3 to 10 mm in size. Females are larger than males and can measure 13 mm in body length. These spiders are members of the genus Latrodectus. Black widow spiders favor dark, secluded areas such as crevices and woodpiles. Inside the home, black widows typically hide in sheltered, dimly lit locations such as garages, dark corners, basements, closets and cluttered areas. They thrive primarily in temperate zones and are known to be abundant in the American South. Several species of Latrodectus or "widow" spiders are present in North America. The most common are: the southern widow (Latrodectus mactans) found in the American South and Northeast; Latrodectus hesperus found in the west; the brown widow (Latrodectus geometricus) found in the South; and the northern widow (Latrodectus variolus) found in the Northeast.
Roles
Gallery
Books
Community content is available under
CC-BY-SA
unless otherwise noted.