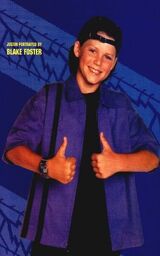 Blake Anthony Foster (born May 29, 1985) is an American actor and martial artist.
Foster was the Huggies baby at the age of sixteen months in 1986. He is perhaps best known for his role as Justin Stewart, the child who assumed the mantle of the Blue Turbo Ranger in the fifth season of Power Rangers, Power Rangers Turbo, making his debut for the show in the movie Turbo: A Power Rangers Movie. Foster reprised the role in an episode of Power Rangers In Space.
In 2017, he will star in the short movie The Order, alongside Austin St. John, Catherine Sutherland, David Yost, Johnny Yong Bosch, Paul Schrier, Karan Ashley, Steve Cardenas, Erin Cahill, Walter Emanuel Jones, Nakia Burrise, Hilary Shepard Turner, Dan Southworth, Alyson Sullivan, Deborah Estelle Phillips and Azim Rizk.
Personal life
Blake Foster began training in American Tang Soo Do style karate under 9th degree black belt Tom Bloom at age 4 and received his black belt on December 15, 1996. He currently holds a 2nd degree black belt in American Tang Soo Do style karate
Has one child, Jaxon Anthony with his wife Katie.
His favorite recording artists are Snoop Dogg, Dr. Dre, Tupac Shakur, Lady Gaga, Nickelback, The Rolling Stones, Steely Dan, Michael Bublé, and Steeples.
Gallery