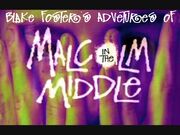 Blake Foster's Adventures of Malcolm In The Middle 
is the Blake Foster's Adventures TV series planned by TheCartoonMan12.
Episodes
All episodes of Blake Foster's Adventures of Malcolm In The Middle (TV Series) are followed in every Blake Foster's Adventures movie by TheCartoonMan12.
Seasons
No. in

series

No. in

season

Title
Directed by
Written by
Original air date
Production

code

Viewers (in millions)
1
1
"Pilot"
Todd Holland
Linwood Boomer
January 9, 2000
10012-99-179
22.4
After his favorite and oldest brother, 16-year-old Francis (Christopher Masterson), is sent to military school, 12-year-old Malcolm (Frankie Muniz), a boy with a dysfunctional family, living with a neurotic father, Hal (Bryan Cranston), control-freak mother Lois (Jane Kaczmarek), a slob and stupid bully 13-year-old brother Reese (Justin Berfield), and 6-year-old Dewey (Erik Per Sullivan), is given an I.Q. test by his teacher and is revealed to have an I.Q. of 165. He is transferred to the school's gifted class against his wishes, and must cope with his desire to be normal despite having been recognized as a genius, trying to accept being a "Krelboyne", the school nerds who are rejected by other kids.

This episode won multiple awards, including two Primetime Emmy Awards for Outstanding Directing and Writing for a Comedy Series for Holland and Boomer, respectively, in 2000. Leading on from this, Holland was nominated for the Directors Guild of America Award for Outstanding Directing – Comedy Series in 2001.

2
2
"Red Dress"
Arlene Sanford
Alan J. Higgins
January 16, 2000
06-99-103
23.3
Lois is supposed to meet Hal at an expensive restaurant for their anniversary date, but Lois forgets to go after she finds her red dress burned and flushed down the toilet, sending her into a violent rage. She spends the night punishing Reese, Dewey, and Malcolm, trying to figure out which of them burned her dress. Meanwhile, Hal makes friends with a member of the restaurant staff while waiting for Lois. Malcolm, seeing that he and his brothers cannot fight Lois alone, calls Francis for help against Lois. It is later revealed that Hal burned the dress by accident.

Note- Jane Kaczmarek was nominated for a Primetime Emmy Award for this episode.

3
3
"Home Alone 4"
Todd Holland
Michael Glouberman & Andrew Orenstein
January 23, 2000
06-99-106
19.3
While Hal and Lois are away for the weekend, Francis comes home from military school to babysit Malcolm, Reese, and Dewey. Malcolm overhears Lois and Hal's discussion about Francis and believes he will be allowed to return home permanently if he does a good job, so he convinces the other boys to be on their best behavior. This all turns out to be for naught when Francis' delinquent friends come over and trash the house. Although they manage to fix it, Malcolm gets a head injury from broken shelves (thanks to Hal buying cheap ones) and they try to find a way to pay the medical bill of $400 for him so Hal and Lois can't find out, so he convinces Malcolm's teacher Caroline Miller (Catherine Lloyd Burns) to pay him off. Seeing the good work Francis has done, they send him back for military school because they realize how much he is "improving" there, much to the dismay of the brothers.
4
4
"Shame"
Nick Marck
David Richardson
February 6, 2000
06-99-107
16.8
Fed up with his constant abuse, Malcolm beats up a huge bully who won't leave him alone, only to learn that the bully is a 7-year-old brat who uses his strength to bully others. Malcolm feels guilty and tries to clear his conscience by signing up for a charity run, but fails when he trips on his untied shoe at the beginning of the run. Dewey is injured climbing a tree, so Hal decides to cuts it down, angering the neighbors because they can see their house now, but then, Hal misses the tree, so he plants another one. Francis decides to steal the slides for the military academy's disgusting sex education slideshow, but he finds some immature slides of Commandant Spangler (Daniel Von Bargen) in his office, which he replaces with the original slides. However, Spangler shows a cunning and trickier side by showing the cadets slides of Francis picking his nose and urinating drunk.
5
5
"Malcolm Babysits"
Jeff Melman
Maggie Bandur & Pang-Ni Landrum
February 13, 2000
06-99-105
17.9
Because of Dewey always leaving food in the crawlspace under the house, the whole family is forced to live in a trailer owned by Lois's coworker, Craig, while their house is being fumigated. However, Malcolm ends up spending more time at the home of an upper-middle-class family who has hired him as their babysitter, but he learns that they were secretly videotaping him. He later blackmails the family to leave him alone and quits the job, also revealing a horrible secret about the family's wife. Meanwhile at the academy, Francis finds the corpse of a former janitor in the basement of the military school, who was missing for 16 years, and teams up with his friends to give the forgotten custodian a proper burial by sending him down the lake in a burned boat and performing a burial at sea, which turns into a disaster.
6
6
"Sleepover"
Ken Kwapis
Dan Kopelman
February 20, 2000
06-99-110
Malcolm stays overnight at Stevie's house. He convinces Stevie to sneak out of the house with him and they go to an arcade downtown, but Stevie's wheelchair is stolen, and they have to team up to find his wheelchair while dragging Stevie in a cart. Meanwhile, to prove that he is mature, Lois challenges Reese to give Dewey a bath and put him to sleep in exchange for being allowed to stay up late to watch a scary movie, but the task proves more difficult than he expected, just as Lois thought it would. At the academy, Francis is hazed by a group of students, but tells them their tricks are amateurish to what Lois did to him, and the students decide to worship Lois.
7
7
"Francis Escapes"
Todd Holland
Linwood Boomer
February 27, 2000
06-99-101
16.6
Francis deserts from military school to spend more time with his girlfriend, who breaks up with him as soon as he gets home (finding him boring and over attached). Lois finds out Francis has left school, but does not know where he went. Malcolm discovers Francis hiding in the woods near their house and brings him food, though keeping the secret from his brothers and parents gets more and more complicated by the time. After Hal finds him, he decides to drive him across the country back to the military school so Lois won't find him.

Note: This is the only episode other than the pilot to be credited to series creator Linwood Boomer.

8
8
"Krelboyne Picnic"
Todd Holland
Michael Glouberman & Andrew Orenstein
March 12, 2000
06-99-109
15.5
The family (including Francis, who is home for the weekend) spend the day at 'Cirque de Krelboyne', a picnic where Malcolm's classmates demonstrate their abilities. Hal violates the picnic's vegetarian policy by bringing a meat-filled cooler on the picnic, and Lois takes care of a PTA control freak who strictly oversees the food and drinks there, escalating a war. Reese looks forward to giving the Krelboynes a hard time but is soon on the receiving end when one of the kids gets his older brother involved. Malcolm, desperate to ditch the picnic before his act, asks Francis to help him escape only to be quickly left to his own devices when the latter hooks up with a girl. Despite desperate attempts to get out of it Malcolm is eventually forced to take the stage where he stuns the audience with his maths abilities, remembering two random credit card numbers after only seeing them for a second and rattling off increasingly complicated sums. The family is stunned at witnessing first-hand just how smart Malcolm is, causing him to worry that he'll be treated differently. They soon reassure him that nothing has changed.
9
9
"Lois vs. Evil"
Todd Holland
Jack Amiel & Michael Begler
March 19, 2000
06-99-104
16.3
After a mishap of a steam cleaner, Lois finds out that Dewey stole a $150 bottle of cognac from the store where she works due to Malcolm and Reese pressuring him. She makes him return it, but she's fired by a tyrannic assistant manager after he catches them returning the bottle back, and in anger she rips his toupeé off and reveals that he is bald, which leaves the family struggling financially. Francis, chosen to be part of the color guard at a beauty pageant, gains special backstage dressing room access when some of the contestants think he's gay, which he uses to his advantage, but he is so much attracted to the girls and wants to convince the contestants otherwise.
10
10
"Stock Car Races"
Todd Holland
David Richardson
April 2, 2000
06-99-102
14.4
Instead of letting the boys go to school, Hal decides to sneak them out of the class and takes them on a stock car race, and the boys try to sneak on the pit lanes, causing mayhem with the security guards. Lois's hunt for her lost paycheck unearths incriminating items that Hal and the boys stashed around the house, and with the Malcolm's teacher, who arrived because of his absence, she starts to collect all the incriminating and provocative items they have stashed in the following years, and the women have a great time together. Meanwhile, fed up with Spangler and his noisy dog that the students hate, he sneaks a huge snake into the academy and stashes it in his locker. To his dismay, he forgets to lock it, sending the snake loose and ending up eating the dog, only for the snake to be killed when Spangler shoots it twice with a pistol.
11
11
"Funeral"
Arlene Sanford
Maggie Bandur & Pang-Ni Landrum
April 9, 2000
06-99-111
15.3
The family reluctantly prepares for Aunt Helen's funeral, but Lois finally gets fed-up by the collective attitude and announces she's going to take a bubble bath and everyone else can do their own things. Hal decides to listen to his old record player, while Dewey invites a friend, and after they leave a huge spill, they start to clean it, causing a mess in the kitchen. Francis is upset that Aunt Helen's death was not reported to him and Reese is angered for his own reasons. This frees Malcolm to attend a concert with a girl named Julie, but she catches him in his underwear while changing and runs away, tripping on Hal's wires and being sent into a pool of soap and trash, causing her to leave in tears. Fed up with the behavior of his parents and his brothers, Malcolm uses Francis' advice to use a scapegoat(after learning that Lois blamed him for most of the family's problems). Malcolm tells his parents that Reese broke Dewey's birthday present and the reason he seemed so enthusiastic to go to the funeral was that he had planned to stash the remains in the coffin. Angered by Reese's behavior, Lois promptly decides that they will attend the funeral after all so he can apologize to Aunt Helen (by making him stand in the corner in the funeral with his nose facing the wall and threatening Reese into compliance should he defy her).
12
12
"Cheerleader"
Todd Holland
Dan Kopelman
April 16, 2000
06-99-112
13.0
Reese joins the cheerleading squad because he has a crush on one of the cheerleaders. Malcolm is embarrassed to have a brother who is a cheerleader, and even the Krelboynes are making fun of him, but he ends up helping Reese learn his routines anyway, and he becomes really talented. Meanwhile, Dewey wants a new toy, desperately trying to talk Lois into buying it, and Hal, hearing Reese crying because of the girl and seeing him practicing cheerleading routines with Malcolm in the backyard, tries to give all the boys "The Talk".
13
13
"Rollerskates"
Ken Kwapis
Alan J. Higgins
April 30, 2000
06-99-108
14.5
Malcolm wants to play street hockey on rollers with his friends on the street, but he doesn't know to do it, so Hal gives Malcolm roller skating lessons. Malcolm becomes frustrated with his lessons and says "the F word" to his dad. Hal responds by not only punishing Malcom but also typing up several pages of obscene words and forcing Malcolm to look him in the eye and say them to him. Malcolm relents, but manages to do it, realizing the meaning of swearing words, and then agreeing not to make eye contact with Hal for the next weeks, and he finally learns how to roll on skates. Meanwhile, Lois throws out her back by screaming too loud at Reese for tracking mud in the house and refuses to take painkillers until Reese secretly sneaks them in her milk. At Marlin Academy, Francis fakes the same back injury to get out of a wilderness survival exercise at the academy, but is caught and forced to go on the exercise.
14
14
"The Bots and the Bees"
Chris Koch
Alan J. Higgins & David Richardson
May 7, 2000
06-00-202
12.3
Lois visits Francis at military school after he has a medical emergency. Hal, no longer under Lois's supervision, quickly regresses into his wild teenage persona. He resumes smoking, stops going to work, and lets Reese and Dewey get away with everything. Meanwhile, Malcolm and the Krelboynes decide to enter a killer robot competition, but Hal takes over their robot-building project, causing everyone else to abandon the idea. Hal ends up builds a dangerous robot complete with a bee cannon. He gets crazy over the whole project, and the boys end up launching the bees on him to stop him, sending him into the tears as he is covered with bees. Meanwhile, Francis is upset when everyone else at the academy (even Spangler) gets along well with Lois, finding her a far cry from the bossy demanding woman he had often described.
15
15
"Smunday"
Jeff Melman
Michael Glouberman & Andrew Orenstein
May 14, 2000
06-00-201
12.6
Lois, down with a severe case of the flu, doesn't realize she has spent two days in bed; thinking Monday is Sunday, she doesn't make the boys go to school--or lift their latest grounding about giving away Dewey's bike. The boys are originally happy to get the day off school, but soon realize they've made a mistake as the TV is still shut off as part of the punishment and they can't leave the house lest they be seen and reported (although it won't matter, since Hal is bound to find out when he gets home anyway). Francis calls the boys about hiding an incriminating letter about his latest mishap on the academy and offers them assistance by suggesting an arcade where the owner doesn't bust truants. However, when the boys find out from Lois that they are grounded because Francis told her what they did with the bike, the boys refuse to cooperate with him. So Francis decides to get his lowlife pals to get the letter, but Malcolm creates a decoy letter for them to take and leaves the real one with Dewey who, to his horror, hides it under Lois' pillow, causing her to read it. Although now realizing it's Monday, Lois is caught up with both her flu and Francis' prank to the academy that she ignores punishing the boys for skipping school. With Lois ready to send Francis to a work farm, the boys try to come up with a prank that would make Lois turn her attention back to them. Meanwhile, Hal visits a Porsche dealership and ends up ruining a car because he caught Lois' flu.
16
16
"Water Park (Part 1)"
Ken Kwapis
Maggie Bandur & Pang-Ni Landrum
May 21, 2000
06-00-203
13.9
The family takes a trip to a water park to have some fun. Lois and Hal sneak alcohol into the park and have fun, while Malcolm and Reese have a prank war over a dispute, and they have their final showdown at the huge water tower. Lois catches them and yells at them, but Malcolm pushes her in, although she manages to grab both of them and pulls them down the slide. Meanwhile, Dewey is stuck at home with an ear infection and an elderly babysitter (Bea Arthur), and realizes that they both have a lot in common and have fun—too much fun in fact, as the excitement gets too much for her and she's carted away in an ambulance (whether she died or not is unknown) and he becomes so entranced with a balloon being blown around in the wind (later a paper bag) that he gets lost.
17
1
"Traffic Jam (Part 2)"
Todd Holland
Dan Kopelman
November 5, 2000
06-00-204
The family is banned from the water park because of breaking too many violations, including sneaking alcohol into the park and Malcolm and Reese's fight. However, they get stuck in a traffic jam caused by a car wreck right in front of them on their way home(because Hal refused to yield the right of way to the silver car). Hal has an existential crisis when he realizes how easily it could've been their car that was hit by the truck. Lois can't accept the fact that there's nothing she can do to speed up the process so they can get back on the road, causing her to have a mental breakdown. Meanwhile, Reese and some kids battle an ice cream man who refuses to give them treats. Malcolm spends the time with a girl and is crushed when he finds out she lives in Canada. She gives him her phone number, but at the last moment, a dog eats the paper with the number, much to Malcolm's dismay. At the military academy, Francis bets fellow cadets that he can eat 100 candy Quacks and gets sick in the process. Meanwhile, Dewey has an adventure going home.
18
2
"Halloween Approximately"
Todd Holland
Dan Kopelman
November 8, 2000
06-00-207
When Francis comes home for a post-Halloween visit, he helps his brothers get back into the spirit by building a giant slingshot on the roof of their house to terrorize the neighborhood, but are defeated when Krelboynes turn the tables on them. Hal and Lois track down a joyrider in a blue 1972 Chevrolet Chevelle who won't stop speeding down their street and taunts Lois, and they end up stealing his car. Driving it around, they seem to have an epiphany about their youth and have fun driving around, even thinking about leaving the kids and depart to Mexico, but, coming to their senses, they drown the car in a lake and return home.
19
3
"Lois's Birthday"
Ken Kwapis
Alex Reid
November 12, 2000
06-00-205
Reese, Malcolm, and Dewey are given money to buy birthday presents for Lois (even when she tells them what she really wants). However, they spend most of it on candy and give not so great presents. However when Hal also forgets Lois' birthday as well, she runs away from home and goes to a batting cage. Francis, who had come home for Lois' birthday, convinces an African woman to ditch her bus tour and see America with him instead. When he learns what Reese, Malcolm and Dewey has done, he disciplines them for their selfishness. At the batting cage, Hal and the boys throw together a makeshift party for her at the batting cages, where they end up getting into a fight with a bunch of clowns (especially when the lead clown insults Lois for being too hard on her family).
20
4
"Dinner Out"
Jeff Melman
Michael Glouberman & Andrew Orenstein
November 15, 2000
06-00-206
The family has a dinner date with the Kenarbans, who start to pick up the bad habits of Malcolm and his family: Abe gets drunk with Hal, Stevie punches Reese, and Kitty makes a scene by yelling at Stevie in front of everyone. With Spangler's mother visiting, the academy is free for the cadets, and so Francis invites a group of local girls to a party at Marlin Academy, which they promptly destroy. Francis goes to Spangler to tell him about the party, and together they try to limit the damage.
21
5
"Casino"
Todd Holland
Gary Murphy & Neil Thompson
November 19, 2000
06-00-209
Malcolm and his family vacation at a casino on an Indian reservation. Hal is banned from the gambling area after using Malcolm to count cards for him at a blackjack table. Unable to gamble, Hal looks for another form of recreation and takes Malcolm and Reese on a hike through the desert, where they accidentally wander onto an artillery range owned by the Army, and they end up in a military base. Lois wins a day at the spa and shares it with Dewey since Hal is gone. Francis ditches school thinking he would have the house to himself while his family was gone, only to run into Craig, who has also snuck into the house uninvited.
22
6
"Convention"
Jeff Melman
Bob Stevens
November 22, 2000
06-00-208
Hal and Lois go out of town to a convention, where Hal keeps picking fights with a coworker who stole a great idea he had years ago. Back at home, the boys compete for the attention of a sexy babysitter (Melody Perkins), Francis's friend (who doesn't know that she is gorgeous since she was obese while he was going to school with her) who finds Dewey too adorable and barely notices the other two, and still has big feelings for Francis.
23
7
"Robbery"
Todd Holland
Alan J. Higgins
November 26, 2000
06-00-215
Lois and Craig get caught up in a robbery at the Lucky Aide, where Craig finally admits his feelings for Lois. Hal brings home an old armoire to give Lois as an anniversary gift, but it turns out to be full of bats. They manage to get rid of all the bats, but not without trashing the house in the process. Francis tries to cheer up a recently dumped fellow cadet by taking him to a strip club, then an illegal cockfight, where they run into a mishap with the locals.
24
8
"Therapy"
Ken Kwapis
Ian Busch
November 29, 2000
06-00-210
Malcolm fakes an emotional breakdown in order to get out of the Krelboyne class' Medieval Week. Hal and Lois clean out a packed closet and find that it is actually a second bathroom with a functional toilet. They decide to keep the secret and repack it so the boys won't find out. Dewey reveals a hidden talent for table skittles, but his talent seems to disappear as soon as Hal tries to show it off on a convention. Meanwhile, Francis starts laundry duty at military school. He is good at it, but then becomes greedy and starts a business and blackmail. The other cadets soon gets back at Francis for it by ruining the detergent and allow him to be busted by Spangler.
25
9
"High School Play"
Jeff Melman
Maggie Bandur & Pang-Ni Landrum
December 10, 2000
06-00-211
Malcolm gets a role in a high school play and starts blowing off his friends to spend more time with his new high school friends. Caroline gives birth in the school parking lot when the Krelboynes' model rocket launch goes awry. Hal and Dewey create a LEGO city. At the play, the constant exposure to the high-school gossip causes Malcolm to forget his lines and allowing the Krelboynes to get their revenge on him for it.

Note: This marks the final appearance of Catherine Lloyd Burns as Caroline Miller.

26
10
"The Bully"
Jeff Melman
Alex Reid
December 17, 2000
06-00-214
After being beaten by a girl in a wrestling match, Reese relinquishes his role as the school bully, which allows people to start picking on Malcolm. However, Reese returns when people entered the off-limit zone (Picking on Stevie, who is wheel-chair bound). Francis tries to come home from military school for his birthday to avoid a brutal birthday hazing ritual of having his whole body shaved.
27
11
"Old Mrs. Old"
Todd Holland
Alan J. Higgins
January 7, 2001
06-00-213
Malcolm must help an old woman (Florence Stanley) in the neighborhood with whatever she wants of him because he broke her arm. He takes care for her and actually gets friendly with her, until one day, she passes out from alcohol. He invites his friends over and joyride in her car, but they pass next to Lois, panicking Malcolm. The old woman covers for Malcolm, for a small price he has to pay. Francis' friend Richie is sent to the military academy. Meanwhile, Reese tries to convince (and force) Dewey to use a regular backpack instead of a purse.
28
12
"Krelboyne Girl"
Arlene Sanford
Bob Stevens
January 14, 2001
06-00-212
Malcolm's class has a new student named Cynthia (Tania Raymonde), and it quickly becomes clear that she has a crush on him. Malcolm doesn't know how to react about this, panicking about a new love, and ends up throwing a brick through her window in the middle of the night. She is mad at first but ends up forgiving him.
29
13
"New Neighbors"
Ken Kwapis
Maggie Bandur & Pang-Ni Landrum
January 21, 2001
06-00-219
New neighbors move in next to Malcolm's family, and the two families soon hate each other(especially Lois and the mother who have conflicting views of parenting.) However, the father quickly becomes best friends with Hal and they must keep their friendship a secret from their wives. One of the neighbors starts rumors that Malcolm is a Big Peeping Tom, leading Malcolm to seek revenge by framing him for theft. Malcolm and Reese accidentally catch the neighbor family's mother cheating on her husband, forcing them to move. Meanwhile, Commandant Spangler gets drunk on the day that Oliver North visits Marlin Academy and Francis must save the day.
30
14
"Hal Quits"
Ken Kwapis
Michael Glouberman & Andrew Orenstein
February 4, 2001
06-00-216
Hal quits his job after a disastrous career day at Dewey's school, and spends his free time to a huge painting in a garage (which is never shown on-screen). He drives himself crazy adding more and more layers to the painting until he goes crazy about it. Francis reluctantly works at the Lucky Aide over spring break when they need extra people to take inventory. Malcolm questions his future profession after an aptitude test reveals that he could do any job on the planet.
31
15
"The Grandparents"
Todd Holland
Gary Murphy & Neil Thompson
February 11, 2001
06-00-217
Lois' parents Victor (Robert Loggia) and Ida (Cloris Leachman) come for a visit and don't seem to approve of anyone in the family except Reese. Hal buys a new refrigerator thinking Victor is going to reimburse him for it, but Victor changes his mind. Victor also gives Reese a case of his old weapons, but Reese pulls the pin and breaks the handle off a live grenade, so Malcolm throws it in the new fridge to keep it from destroying the house, blowing up the fridge in the process. After finding out about the grenade, Hal quickly turns the situation against Victor and Ida, forcing them to reimburse the family or be put in jail. Meanwhile, Francis is sick from a bad sushi while he and the cadets are in New Orleans for Mardi Gras.
32
16
"Traffic Ticket"
Jeff Melman
Larry Strawther
February 18, 2001
06-00-218
Lois is cited for reckless driving, and arrested due to several outstanding parking tickets earned by Francis. She orders Francis to pay off the fines he has accumulated in her name, which leads Francis to try a dangerous stunt for money. Lois disputes the reckless driving citation, believing the officer has a personal grudge against her because she made him pay for an iced-tea he was buying. The boys find that Lois was wrong but can't tell her because she will scream and ground them. But when security camera footage shows evidence to the contrary, Lois has an emotional meltdown over being wrong for the first time in her life. Craig finds a security camera from a different angle showing that Lois wasn't at fault after all. However, Hal and the boys destroyed the tape, so she will continue to believe she was wrong and forces Craig to remain silent, or else they will make his life living hell.
33
17
"Surgery"
Jeff Melman
Maggie Bandur & Pang-Ni Landrum
February 25, 2001
06-00-222
Malcolm is hospitalized with side pains and is diagnosed with appendicitis. He is scheduled for surgery until he manages to prove the diagnosis wrong and must suffer the consequences when his parents find out. The rest of the family obsesses over a board game called March and Conquer (a fictional version of Risk), which they usually don't play since Malcolm always beats them all in a few moves. Francis and the cadets go on a hunger strike after Commandant Spangler takes away their television.
34
18
"Reese Cooks"
Jeff Melman
Dan Kopelman
March 4, 2001
06-00-220
After another destructive prank by Reese, Hal and Lois find themselves struggling to discipline him as he shrugs off any attempts at punishment. Trying a different angle, Hal forces Reese to attend a culinary class only for Reese to discover a remarkable talent for cooking. In the class' cooking contest, Reese is found to have cheated by putting foul-tasting, raw ingredients (such as salt, pepper, or castor oil) in the other contestants' foods, even though he almost certain to win anyway. Hal punishes him by forbidding him to cook for a month, which makes Reese cry. This leaves Hal and Lois satisfied that they have finally found a punishment that works. At Marlin Academy, Eric tries to force Francis to do his half of a major project they are both responsible for. This is easier said than done, as Francis keeps on getting distracted by the smallest things until Eric threatens Spangler on him. Meanwhile, Cynthia organizes a "Be My Friend" party for everyone at the school, but Malcolm is worried that she's setting herself up to disappointment and tries to stop her.
35
19
"Tutoring Reese"
Ken Kwapis
Ian Busch
March 11, 2001
06-00-221
Malcolm tutors Reese to improve his lousy grades and avoid him getting sent to the school's remedial class by his teacher Mr. Woodward (Dave "Gruber" Allen), but he keeps getting Fs, no matter how much he studies. Desperate, Malcolm secretly takes Reese's big test, and when it earns another F, he realizes that Woodward has a grudge on Reese for his bullying and wants him the school's remedial class. Francis leaves the family and lives in the basement of his friend Richie's house because Lois kicked him out for refusing to re-shingle the roof during a visit home due to Hal's fear of heights. When Mr. Woodward calls to give Lois and Hal the paperwork to reassign Reese to the remedial class, Malcolm busts him, but he also reveals his scheme. When Lois is ready to tell the school about Woodward's targeting of Reese, Woodward points out this would get Malcolm expelled from school. Lois responds that she would gladly sacrifice Malcolm to save Reese because she knows whatever happens Malcolm will be all right, while Reese needs all the help he can. Lois's threat is backed up when Woodward sees Francis in the rain, screaming and begging to be let in. In the end Francis, Reese, Malcolm and Woodward are all forced to re-shingle the roof together.
36
20
"Bowling"
Todd Holland
Alex Reid
April 1, 2001
06-00-223
In this Sliding Doors-style story, the viewer simultaneously sees what happens when the boys go bowling with Hal and what happens when they go bowling with Lois. In both versions, Malcolm and Reese go to bowl, while Dewey stays at home because he is punished for killing the neighbor's parakeet, as a subplot, with one of the parents guarding him. In the both versions, when Hal/Lois return home from the bowling alley, they say to each other that next time, they are taking them. Tony Danza and Alex McKenna guest stars.

Note: This episode won two Primetime Emmy Awards for Outstanding Directing and Writing for a Comedy Series for Holland and Reid, respectively, in 2001. Leading on from this, Holland won the Directors Guild of America Award for Outstanding Directing – Comedy Series in 2002. Frankie Muniz was nominated for a Primetime Emmy Award for this episode.

37
21
"Malcolm vs. Reese"
Todd Holland
Teleplay by: Dan Kopelman

Story by: Dan Danko & Tom Mason

April 22, 2001
06-00-226
Francis bribes Malcolm and Reese with just one extra ticket to a wrestling match, forcing them to humiliate themselves and do all his chores, trying to outdo each other for the one ticket. The boys turn on each other when they realize that the other one can't go to the wrestling match if they are grounded. However, Francis betrays them both by taking a girl (Cerina Vincent) to a wrestling match and they get their revenge, by emptying his wallet, calling the police and reporting the family car is stolen by Francis, and then they tie up themselves in the trunk, leaving Francis humiliated in front of his girlfriend and also getting him arrested. Meanwhile, Dewey is hired to watch Craig's cat for the weekend, but he loses the cat and his parents make things worse. Craig moves in with the family after they burn his house down. In the end, Lois punishes Reese and Malcolm for getting Francis arrested by forcing them to serve Craig, leading the boys to regret getting Francis arrested after learning how more demanding he is. The episode ends with a blooper reel before the credits.
38
22
"Mini-Bike"
Ken Kwapis
Michael Glouberman & Andrew Orenstein
April 29, 2001
06-00-227
Craig drives the family insane while living with them. The boys buy a used moped and fix it up, only to have Lois confiscate it. Reese takes the bike out anyway and crashes it, twisting and breaking his leg. Malcolm thinks fast and tricks Craig into believing he had run over his leg. Even though Lois eventually finds out about Reese riding the bike against her admonition, she lets the boys get away with it because they helped get Craig out of the house. Hal visits Francis at Marlin Academy's father/son day and is disappointed when he learns that Francis apparently has not changed, but is later proud when Francis is the only cadet who stands up to Commandant Spangler.
39
23
"Carnival"
Ken Kwapis
Alex Reid
May 6, 2001
06-00-225
Reese and Malcolm plan with Stevie to sneak onto the carnival fair that is in town, with Reese and Malcolm telling the parents to spend the night with Stevie and Stevie doing the vice versa with his parents. However, Dewey spies on them and wants in on the deal or else he will tell Lois, and even after blackmailing him into make his life living hell (breaking every toy and giving him wedgies every day until he moves out), they have to agree with him so they can all go in together. They all sneak off to the county fair together, but they arrive as the fair is closing and end up being locked in and chased by a security guard, a mishap thanks to Dewey having to pee and waiting two hours for the bus. Hal and Lois were going to spend the entire evening having sex until Stevie's parents showed up and they all discovered that their sons had lied. They search various places around town to find them, with Francis's help.
40
24
"Evacuation"
Todd Holland
Gary Murphy & Neil Thompson
May 13, 2001
06-00-228
Hal and Dewey accidentally drop an old couch on the railroad tracks while driving it to the dump, and the town ends up being evacuated into the school gym after a train containing toxic waste derails. While Hal tries to make up to society, Malcolm was late coming home from school and gets grounded, so Lois forces him to stay on his designated cot in the gym. Dewey convinces other people that he is an orphan in order to get what he wants, and Reese starts running a black market when he realizes that everyone there is in need of basic supplies. At the end, Malcolm gets fed up and stands up at Lois, Reese's black market is discovered, Dewey reveals his scheme to Hal in front of the crowd. The Army forces Hal, Dewey, Lois and Reese to spend the night on the bench outside without moving from it, with Malcolm enjoying his freedom, while an enraged Lois warning him "Don't think you'll suffer the consequence later mister". Eric takes Francis out on a blind double, but Francis' date turns out to be twelve. However, Francis has a better time with the girl than Eric has with his own date.

Note: Jerry Trainor guest stars as a high school military private.

41
25
"Flashback"
Jeff Melman
Ian Busch
May 20, 2001
06-00-224
While Hal worries and argues with Lois over the possibility of her being pregnant again since she is two weeks late with her period, the two look back at the memories of their children's births, from Francis being born while Hal and Lois got married, Reese born early because Lois pushed him out because he kicked too hard, Malcolm born on the front yard because Lois had to go to the hospital and Francis locked her out of the car because he thought he would get a shot, to Dewey's birth on the backyard while it was raining because young Malcolm accidentally made chlorine gas and the house had to air out and the car keys were inside the gassy house. During Dewey's birth, Hal was forced by Lois to tell her why he loves her. Later, Dewey, who has been listening to his parents, is happy that they are not arguing anymore, because he thought they would get a divorce. Lois is revealed not to be pregnant.

Note- Jane Kaczmarek was nominated for a Primetime Emmy Award for this episode.
42
1
"Houseboat (Part 1)"
Todd Holland
Bob Stevens
November 11, 2001
06-01-301
Malcolm's family and the Kenarbans vacation together on a houseboat, before Lois scolds Malcolm for his father for almost becoming a registered sex offender all because of a girl at a sports store, and forces him to make up with him by going fishing with Hal. While Reese and Stevie hang out with girls from a cheerleader camp who are rather kinky. Malcolm soon becomes annoyed with spending time fishing with Hal, and finds some bras and Reese's shirt by the boat, causing him to throw Hal overboard and rushing the boat to the girls camp. Dewey has an increasingly bad time, ending with Reese and Stevie leaving him on a buoy, causing him to have severe skin burns. Returning home, Lois punishes Malcolm and Reese for 3 weeks for their actions with household chores, even though Malcolm remarks that he cannot stop smiling. Meanwhile, Francis' friend, Eric, drops out of the military academy to take on a logging job in Alaska and Francis gets himself emancipated so he can join him, incurring Lois' wrath because she was against him leaving school from the start.
43
2
"Emancipation (Part 2)"
Jimmy Simons
Alan J. Higgins
November 14, 2001
06-01-302
Francis, having had himself emancipated, promptly leaves the military academy and comes home a final time before heading out to join Eric in Alaska, but Lois wants nothing to do with him since he quit school. Meanwhile, Malcolm's new teacher, Mr. Herkabe (Chris Eigeman), a former Krelboyne student and a sadistic professor, sets up a ranking system to pressure them to achieve, causing the students to suffer a breakdown and increased paranoia, turning them against each other, until Malcolm develops up a scheme to break Herkabe's system, humiliating him in front of the school headmaster.
44
3
"Book Club"
Todd Holland
Alex Reid
November 18, 2001
06-01-304
Lois attempts to escape the boys' nightly misbehavior by joining a women's book club, but she soon realizes that it's merely an excuse for the women to socialize—and get drunk. She makes friends with the women there who have similar problems with their children, specially Karen. Intoxicated, Lois helps them plot against a wealthy PTA mom, Lillian Miller, who seems to handle her children and all other motherly duties with ease and living in pure luxury. Meanwhile, Hal starts trying out many different ways to keep boys in order, and Francis hitches a ride with a trucker who makes him humiliate himself in exchange for the ride. Lois goes with Karen and the other moms to trash the car belonging to the PTA mom. However, the plan fails when Karen makes too much noise and stomps on the flowers. Sure enough Lillian comes out with a shotgun and scaring them away with calling the police. Lois and Karen hide in a dumpster in front of the police. After Lois comes home, she busts the boys for hiding fireworks in the backyard as the police arrive to arrest her.
45
4
"Malcolm's Girlfriend"
Ken Kwapis
Ian Busch
November 28, 2001
06-01-305
After getting a girlfriend (Portrayed by Alessandra Torresani even though her face is never shown on camera), Malcolm neglects his family and friends; the family reacts when they find out about her. Meanwhile, Dewey uses his new friend's wealth to get the birthday party he's always wanted. Still en route to Alaska, Francis is jailed but quickly starts to enjoy his time as he watches the guards' complicated lives unfold as a soap opera, and he has a good time with the guards and gives them advice, and they let him go to continue his trip.
46
5
"Charity"
Jeff Melman
Gary Murphy & Neil Thompson
December 2, 2001
06-01-303
Lois forces the boys into community service to build character, she gives them a choice: Helping a local church to give to the needy or go to a Senior Citizen's home. They choose to help out at a church, where they quickly go from trading their own stuff to stealing merchandise and creating a black market. Meanwhile, Francis finally reaches his destination in Alaska only to learn that his new job isn't the easy money-making opportunity he thought, but rather a living hell. When Hal discovers the boys' black market business, he attempts to make the trip back to the church to return the stuff they had taken.
47
6
"Health Scare"
Todd Holland
Dan Kopelman
December 9, 2001
06-01-307
When news hits that Hal may have a serious illness, Lois becomes meaner than usual. Meanwhile, Francis has a showdown with combative Lavernia in Alaska, and Dewey becomes overzealous in taking care of his class's pet hamster, by putting it in its play ball and filling it with cereal, and setting it free to protect it from a mean bully who is next in taking care of the hamster.
48
7
"Christmas"
Jeff Melman
Maggie Bandur & Pang-Ni Landrum
December 16, 2001
06-01-306
As the boys ruin Christmas every year, the most recent being a tree ornament war, Lois finally issues an ultimatum: either the boys behave or Christmas is cancelled! It works and Lois is proud that they rose to the challenge, but the boys realize that she could keep using this threat for every holiday--how can they stop her? They get back at Lois for holding Christmas hostage by drawing obscure pictures of her killing Santa Claus on the garage wall and tearing open their presents on Christmas Eve. However, remorse sets in when the boys realized that Lois had gotten them the presents they wanted and they were the ones responsible for ruining their own Christmas by stressing her out. Meanwhile, Francis spends a torturous Christmas with Grandma Ida in Whitehorse and eventually finds a closet full of gifts she bought for the family over the years, then withheld from because of petty offenses.
49
8
"Poker"
Ken Kwapis
Michael Borkow
January 6, 2002
06-01-308
Hal finally gets an invitation to Abe's poker game, where Hal feels left out because he's the only amateur player and the only 'non-professional' (it never occurs to him that he is also the only white player there). Malcolm clashes with Stevie for filming him in a homework assignment that leads to a poker match. Reese collects money from old ladies who wanted to partner up at Lois's dance class, then uses the money to get Dewey a toy and smashes it in front of him. For revenge, Dewey films Reese being dragged along to the class. Meanwhile, Francis and his Alaskan friends are trapped in an Alaskan blizzard fending off cabin fever. In the end, Hal and Abe make up.

Note- Jane Kaczmarek and Bryan Cranston were nominated for a Primetime Emmy Award for this episode.

50
9
"Reese's Job"
Todd Holland
Gary Murphy & Neil Thompson
January 20, 2002
06-01-310
Reese works at a fast-food place, but gets into trouble when his co-workers think he stole money from the cash register. Dewey tries to prove himself trustworthy with a goldfish and his parents try to sabotage his efforts with switching the live fish with a dead one, until they find out that Dewey was switching the fish with others in order to get a dog. Malcolm finds himself eclipsed by the newest, youngest Krelboyne--Herkabe's latest attempt to get rid of Malcolm--until the boy helps Malcolm clear Reese's name by revealing the real culprit. Much to Herkabe's annoyance, the boy's father shows up and has decided to transfer him to another school where he can be a normal child. Francis helps one of his lodge friends prepare to marry a Russian mail-order bride, but what arrives is not what they expected.

Note: This episode marks the final appearance of Todd Giebenhain as Ritchie for the series.

51
10
"Lois' Makeover"
Jeff Melman
Michael Glouberman & Andrew Orenstein
January 27, 2002
06-01-311
Mortified when she learns that she performs poorly in Lucky Aide secret-shoppers' performance reviews, Lois tries to dress up her appearance. Her work life begins to improve after the makeover, but she removes all the makeup after a man mistakes her for a prostitute. Hal is re-energized after beating the boys at basketball until the boys discover his dirty secret and get their revenge on him. A rat infestation gives Francis a new job.
52/53
11/12
"Company Picnic"
Todd Holland
Teleplay by: Alan J. Higgins

Story by: Janae Bakken

February 3, 2002
06-01-313
The family attends Hal's company picnic, where Hal tries to avoid his new boss because of his bleak history of first impressions and Malcolm sees an old crush. Francis finds himself caught up in an ice hockey match between the loggers and a female oil-rig crew and bets his teammates money against the loggers, knowing that if he wins the money he can pay off his debts to Lavernia and leave his Alaskan hellhole. However, the team is so confident in winning and they do, and when Lavernia and the rest of the team find out the truth about the money, they tie Francis naked to the ice-cleaner truck and drags him around the pit. Guest appearances include: Terry Bradshaw, Tom Green, Howie Long, Stephen Root, Christina Ricci, Susan Sarandon, Patrick Warburton, Heidi Klum, Lauren Storm, Magic Johnson and Bradley Whitford.
54
13
"Reese Drives"
Jeff Melman
Michael Glouberman & Andrew Orenstein
February 10, 2002
06-01-309
Reese gets his learner's permit, but after a poor student named Jackie makes him miss his turn for a driving test, he steals the Driver's-Ed car and ends up in a chase with the cops. However, he battles them back after driving back to the driving course and making a perfect course, impressing Jackie and his whole family. After throwing eggs on Craig's house, Lois makes Malcolm to clean it from Craig's house, but Craig lied so he could have Malcolm help him set up his new home cinema. Meanwhile, Francis makes several promises to different lodgers in order to fix a hole in the lodge's roof, but when he can't deliver, the angry lodgers come after him.
55
14
"Cynthia's Back"
Ken Kwapis
Maggie Bandur & Pang-Ni Landrum
February 17, 2002
06-01-312
A moody Cynthia returns from Europe and Malcolm discovers it's because she was hiding more developed figure, in particular, her big breasts. When Reese finds out about this, he tries to date with the objective of getting a peek at her breasts, but Malcolm outsmarts him by asking him about her name (which Reese obviously doesn't know). Desperate, he grabs her breasts in a last attempt, but Cynthia beats him up. Meanwhile, Karen tells Lois that she kissed Hal on New Year's Eve, but he denies it completely and also confess to Lois that he doesn't even think about other women, and Lois realizes that Hal loves her more that she loves him. Dewey teaches Hal how to fly a kite. In Alaska, after his drunken roommates stole a totem pole, Francis looks towards it for answers in his life.
56
15
"Hal's Birthday"
Levie Isaacks
Alex Reid
March 3, 2002
06-01-316
Lois arranges for Francis to come home on Hal's birthday as a surprise, but the real surprise is on everyone else when Francis arrives--with a wife, Piama (Emy Coligado), which he told no one about. Malcolm, Dewey, and Reese are immediately sent to bed while the arguments rage on with Lois and Francis, destroying Hal's birthday. Meanwhile, the boys, upset that their parents don't care about their opinions, sneak off to a hotel with Hal's credit card to start a new life, until Hal finds out about the missing credit card and it leads to Lois confronting the boys. Although upset, Malcolm wisely tells Lois that she had been ignoring their own thoughts even when they agreed what Francis did was wrong, prompting her to apologize for her actions.
57
16
"Hal Coaches"
Jeff Melman
Ian Busch
March 10, 2002
06-01-319
Hal decides to coach Dewey's soccer team and turns them into monsters. Meanwhile, when Malcolm and Reese get a computer from their neighbor Ed, they discover his big secret thanks to the undeleted emails and Reese blackmails him into doing things for him. Malcolm starts playing a game called The Virts, where he recreates himself and his family, but gets obsessed when his virtual version develops depression and morbid obesity. In Alaska, Piama kidnaps Lavernia's precious parakeet and demands better treatment for Francis or else she will personally execute the parakeet.
58
17
"Dewey's Dog"
Bob Stevens
Michael Glouberman & Andrew Orenstein
April 7, 2002
06-01-318
Dewey finds a dog and uses him to gain the upper hand over Malcolm and Reese, such as making them wear dresses and makeup. When Craig comes by to return some dry-cleaning, Dewey holds him hostage. Craig manages to run away but the dog chases him. Because the dog is gone, Malcolm and Reese torture Dewey as revenge for the dog (making him eat dog food, forcing him to defecate out in the front yard, etc). Meanwhile, Hal and Lois go on a date, and neither will admit that they caught Craig's flu. In Alaska, Francis comes face-to-face with his former, albeit drunk commandant, Edwin Spangler, who blames him for not only losing his job at Marlin Academy, but also his desertion. Francis feels sympathy for Spangler and gets him a job at a retirement home that gives him free rein to bully the elderly.

Note: This marks the final appearance of Daniel Von Bargen as Commandant Edwin Spangler for the series but will appear in a flashback scene in the season 4 episode "Clip Show 2".

59
18
"Poker 2"
Jeff Melman
Teleplay by: Bill Hooper

Story by: John Bradford Goodman

April 21, 2002
06-01-322
Hal, Abe, and their friends play extremely well in poker but start to compete over minor issues. Meanwhile, Reese sets Malcolm and Stevie up with two popular girls (Dana Davis and Lindsey Haun), telling them that Stevie is terminally ill; Malcolm discovers that one of the girls has a handgun and tries to hide it from her, with unintentional results. Meanwhile, Eric suspects that Piama is having an affair and it prompts Francis to return home, where Piama's estranged father has returned. Humiliated, Francis returns to his place of work to beat up Eric.
60
19
"Clip Show"
Jamie Babbit
Michael Borkow & Alex Reid
April 28, 2002
06-01-321
Believing the boys ruined the car, Hal forces them to see a psychiatrist (Andy Richter) to cure their bad behavior. Soon the three open up and tell him all about their family, which escalates into a big fight between the boys, freaking out the shrink.

Note: Jane Kaczmarek only appears in the flashback scenes.

61
20
"Jury Duty"
Ken Kwapis
Teleplay by: Pang-Ni Landrum

Story by: Pang-Ni Landrum, Dan Danko & Tom Mason

May 1, 2002
06-01-320
While Malcolm and Reese spend a day exploring a sewer with Dewey and Stevie, they can't stop bragging that they saw Kitty naked over the weekend. Lois serves jury duty for a stolen motorcycle case and as she's not allowed to discuss it, Hal and Abe think her case is a high-profile murder case and spend the day proving their own theories about it. In the deliberation room, a dismayed Lois finds that her fellow jury members just want to declare the defendant guilty and go home. She forces them to properly analyze the case by not only changing her verdict, but also using Francis as an example since Lois is aware that their behavior resembles his. Meanwhile, Francis himself is trapped with the other guys in an ice-fishing shed with a bear outside.
62
21
"Cliques"
Jeff Melman
Michael Borkow
May 5, 2002
06-01-317
After a chemical mishap, the Krelboynes are forced to join the general school population, and they all find new groups except Malcolm who gets concerned about a fight between the cliques. All the groups prepare to fight eachother until the other students realise that they are in the presence of Krelboynes. They pants the Krelboynes and Malcolm who are left at the school in their underwear. Meanwhile, Piama is using the money she and Francis have been making from the casino business to go shopping instead of saving it up to pay off Lavernia. When Dewey is stricken with chickenpox, Lois tries to keep him busy with dominoes--but then she forbids Reese to knocking them down, and Reese tries to keep Hal from knocking them down, because Lois will blame Reese, no matter what happens to the dominoes. However, it turns out that Dewey has outsmarted both Hal and Reese by putting away the dominoes after he recovers from the chickenpox.
63
22
"Monkey"
Ken Kwapis
Dan Kopelman
May 12, 2002
06-01-315
After knocking out a burglar, Reese believes he has a future in law enforcement and instantly begins imposing his brutal rule on the neighborhood, but takes it too far when he smashes Lois's car window when she refused to move it for pedestrians. This leads her to severely punish Reese for wrecking her car. Hal, who wasn't even able to make it out of bed when the burglar broke in, tries to prove to himself he can be macho while Dewey refuses to sleep, keeping Malcolm awake too. Elsewhere, Craig is laid up by injuries, thanks to being chased into traffic by Dewey's dog. Rather than spend the insurance money on a nurse he instead gets Oliver, a capuchin monkey "butler"-- who quickly Craig a hard time until Hal rescues him. End result, Hal happily reads Dewey a bedtime story of his exploits, which finally helps him and Malcolm finally fall asleep. With the logging work done, Francis is fired and finds out that his home is scheduled for demolition, but Piama refuses to leave... at least, until she sees the settlement cheque. As a result, they finally bid farewell to Alaska, leaving Eric behind to hitchhike his way home(Francis' revenge against him for suggesting to find work in Alaska). Note: this is the final appearance of Eric Nenninger as Eric as well as being the last appearance of Bernard, the class hamster Dewey liberated, as he ironically reaches Alaska. Note- Bryan Cranston was nominated for a Primetime Emmy Award for this episode
64
1
"Zoo"
Todd Holland
Michael Glouberman & Andrew Orenstein
November 3, 2002
06-02-401
Malcolm is depressed, and the family goes to the zoo. Reese battles a goat, while Malcolm and Dewey end up in a tiger pit. Francis and Piama's road trip across America results in them meeting a German couple named Otto (Kenneth Mars) and Gretchen (Meagen Fay) who offer Francis a job at their dude ranch. However when one of the ranch hands tries to get Francis to join in on exploiting Otto's kindness, he fires the man in retaliation. Lois' ex-boyfriend, Matt (Tim DeKay), is jealous of Hal and intentionally puts a tarantula on Hal. He reveals to him how many boyfriends Lois actually had, leading to a serious confrontation between Matt and Lois when it's revealed that he wants her to divorce Hal.
65
2
"Humilithon"
Jeff Melman
Michael Borkow
November 10, 2002
06-02-402
Malcolm's first day of high school gets off to a bad start when Lois embarrasses him in front of the entire school, causing him to have no actual friends except the Krelboynes. He becomes depressed about this and discovers the only way he can escape is if he commits a felony that would make Lois ship him off to military academy. However, Cynthia catches on to Malcolm's plan and warns him that if he goes through with it, she will never have sex with him again. Lois and Hal volunteer in the school, where Hal clashes with Mr. Herkabe, who doesn't like him. Meanwhile, with Malcolm and Reese away, Dewey stays home alone for the first time in his life (but only for 15 minutes), and has a wonderful time. On the ranch, Francis takes some side-jobs on to earn more money, such as teaching aerobics and being a masseur.

Note: last appearance of Tania Raymonde as Cynthia

66
3
"Family Reunion"
Ken Kwapis
Alex Reid
November 17, 2002
06-02-403
The family goes to Hal's family reunion for his father's birthday, and Hal's family makes Lois miserable because she is from a lower-class family. They pick on her because of her clothes and her parents, dislike her topics and subjects, and finally forget about her during the family photo. They find her crying in the closet, where they insult her for her hot temper. Hal, Piama and the boys are furious for this. Donning several layers of coats, Hal clashes with his father, Walter (Christopher Lloyd), and forces a confession from him. The boys decide to pull a revenge prank on their relatives by driving a golf cart over the celebration with the help of their younger cousins, destroying the party and finally landing in the pool, forcing them to flee from the angry mob. Even though Lois pretends to be angry at the boys, she is still overjoyed inside for having them standing up to others for her. She finally starts treating Piama much better than before.
67
4
"Stupid Girl"
Todd Holland
Dan Kopelman
November 24, 2002
06-02-404
Malcolm pretends to be stupid so he can win over a cute girl (Brittany Finamore) who really is stupid and soon finds that he is actually becoming dumber. Stevie wins Lois' approval and she takes him to the school dance. Meanwhile, Hal rents a steamroller and becomes addicted to running over various objects until Dewey snaps him out of it by standing in front of it.
68
5
"Forwards Backwards"
Levie Isaacks
Maggie Bandur
December 1, 2002
06-02-406
Days before Malcolm's birthday, he and Reese pull increasingly severe pranks against each other. Flashbacks throughout the episode gradually reveal how their feud began when Malcolm ate a blueberry Reese was saving. Meanwhile, Francis encounters a "devil cow" at the ranch and discovers it's just an ordinary cow long overdue for milking. Dewey worries about his role as Abraham Lincoln in the school play and takes on the advice of Lois to imagine a set of parents that leads to a memorable performance. Hal enlists Craig to help him find Malcolm a birthday present, but is driven nuts by his constant demands. Although, Craig calls off the deal, he rescues Hal from buying a bad comic book and forces the owner into negotiations. Malcolm would never get a chance to enjoy the comic book as it along with the other presents go to Dewey as compensation for missing his play, due to Hal and Lois having to ground both Reese and Malcolm for their fight.
69
6
"Forbidden Girlfriend"
Jamie Babbit
Matthew Carlson
December 15, 2002
06-02-405
Malcolm starts to date Nikki (Reagan Dale Neis), a girl from his school that he tutors in his free time. The only problem is her dad, a Vietnam veteran, who dislikes him. Dewey discovers he's an 'evil twin' and Reese uses this advantage to blame 'Dewey's twin' for devious pranks he pulls on his enemies. Soon, Dewey turns Reese's plans against him and gets Reese beat up by an angry bully who happened to be his "good twin"'s older brother. At the ranch, Otto is furious with the other ranchers who keep destroying the fence that Francis is building to keep the cattle inside. In the end, Francis settles them down with an idea.
70
7
"Malcolm Holds His Tongue"
Jeff Melman
Gary Murphy & Neil Thompson
January 5, 2003
06-02-410
Malcolm decides to keep his opinions to himself; at first it goes well, but he becomes so over repressed with his opinions, that he becomes overstressed, causing him to grow a stomach ulcer that leads to a trip to the hospital. Meanwhile, Reese must enlist Craig to drive him and his girlfriend, Alison, to a concert, after she threatens to break up with him over the loss of his Driver's License. He finds himself in over his head when Reese learns that Craig wants to go on a hayride date and won't let him renege out of it, leading Alison to ditch Reese to go to a concert alone. Hal starts practicing race-walking, and ends up having talents for it, until he ends up with a fierce rival. Hal also decides to take on a local speed-walker and buys a speed walking outfit, including the infamous speed walking helmet. Hal makes a run at beating this "common jogger", after learning Wheeler's dirty secret. Note- Bryan Cranston was nominated for a Primetime Emmy Award for this episode.
71
8
"Boys at Ranch"
David D'Ovidio
Gary Murphy & Neil Thompson
January 12, 2003
06-02-412
Hal and the boys visit Francis at the ranch. The boys are shocked to find that Francis is a lot different from the brother they remember... he has become hard-working and mature, and try to get him to be crazy and wicked like he used to be they reveal him a secret stash full of rockets and fireworks. Meanwhile, Hal and Otto get drunk, which causes them to be stranded in the desert during the night.
72
9
"Grandma Sues"
Jimmy Simons
Michael Glouberman & Andrew Orenstein
February 2, 2003
06-02-407
Grandma Ida is injured by slipping on leaves Reese neglected to rake up, and she sues Lois and Hal - just when Lois discovers that she is pregnant. To make the things even worse, she hires an expensive lawyer and sues them on a huge amount of money. This turns to horror when they find out that their insurance is canceled, which can lead to Ida evicting them from their own home and take all of their belongings. The boys band together with Piama in support for Hal and Lois. However, the lawyer has an epiphany and refuses to aid Ida, who, powerless, instantly tries to get on their good terms, but they kick her out of the house.
73
10
"If Boys Were Girls"
Ken Kwapis
Teleplay by: Nahnatchka Khan

Story by: Alexandra Kaczenski

February 9, 2003
06-02-408
The day begins with Hal asking Lois if she'd like the new baby to be another boy or a girl, but it's interrupted by the boys fighting. During a hellish trip to the mall with Hal, a fed up Lois imagines life with daughters instead of sons with Malcolm as Mallory (Lisa Foiles), Reese as Renee (Mimi Paley), Dewey as Daisy (Jennette McCurdy) and also imagines Hal being obese with the fact of being the only male in the house. Though starting off nice and pleasant, Lois soon discovers the problems with raising girls: Renee is pregnant with a bad girl reputation at school, Mallory is an egotistical brat and Daisy is master manipulator. The problems are made worse the arrival of Frances (Christopher Kennedy Masterson), who had followed her male counterpart in rebelling against Lois in leaving college against her wishes and is a stripper. The girls gang up and blame Lois for every one of their problems, which the boys had done earlier, making Lois realize that girls are just as difficult to raise as boys: while boys can be mischievous and destructive, girls are manipulative and rude. Meanwhile, Hal desperately searches for the perfect Valentine's Day present for Lois and settle for a baby's outfit. Thought the boys are well behaved for once, it is revealed that Lois hasn't learned her lesson from the experience and wishes for the new baby to be a girl.
74
11
"Long Drive"
Levie Isaacks
Michael Borkow
March 2, 2003
06-02-409
Reese ends up in prison for a day, where he clashes with a huge wrestler, who ended up in prison for beating a man to death. Lois drives Malcolm with her to move furniture to her sister's house, and during the trip, she tells him everything about sex, much to Malcolm's horror, but they end up having a pleasant conversation. Dewey is bored and causes a feud in Hal's six-man band for his amusement, since Reese is in a prison trip. At the ranch, Francis blows up Otto's favorite cow in a branding accident, and cannot bring himself to tell him.
75
12
"Kicked Out"
Jeff Melman
Alex Reid
March 9, 2003
06-02-413
A combination of Malcolm's disgust at the house falling apart around them, and Hal's fear-induced "zero tolerance" attempts at maintaining peace and order in the family, results in Malcolm being kicked out of the house; the longer he has no home, the more his sanity begins to slip away. Hal finds Malcolm at his ex-girlfriend's house and agrees to keep this between them, knowing that Lois would've gone through greater lengths to find him. At the ranch, Otto's family arrives and Francis has deal with Otto's piano-playing nephew who annoys him, which leads to him smashing his piano in front of Otto's family. Meanwhile, Reese comes up with an idiotic idea by attaching a fire hose to his back for more speed on his bike, which ends up in a disaster.

Absent: Jane Kaczmarek as Lois

76
13
"Stereo Store"
Bryan Cranston
Matthew Carlson
March 16, 2003
06-02-414
Hal gets a second job at "U-Buy It." Meanwhile Jessica (Hayden Panettiere), a girl from Malcolm's school, babysits Malcolm, Reese, and Dewey while Hal works the night shift, and she ends up embarrassing them in front of her friends, and in the end, they have Dewey to be the bait and having him eavesdrop on the conversation between Jessica and her friends, then using the gossip information to blackmail her into cooperation.

Note: This episode marks Bryan Cranston's Malcolm directorial debut. Lois is absent in this episode

77
14
"Hal's Friend"
Jeff Melman
Dan Kopelman
March 30, 2003
06-02-415
Hal meets with an old high-school friend, Larry (Joel Murray), who hasn't changed in all the time since they've seen each other. Meanwhile, Malcolm tries to make Dabney stand up for himself when his overprotective and control-freak mom won't let him use his new paintball gun because it's "violent", as they celebrate Dabney's birthday with the rest of the crowd. However, Dabney takes this to heart and finally stands up for himself at a Paintball facility by pretending his bullies are his overbearing mother and firing at them with paintballs. When the mother confronts Malcolm and Stevie, Dabney shows up and lets his mother know there will be changes from now on.

Absent: Jane Kaczmarek as Lois but is mentioned

78
15
"Garage Sale"
Levie Isaacks
Maggie Bandur
April 6, 2003
06-02-416
Home from a visit with her sister Susan who had called her "hopeless," Lois puts Reese in charge of the family garage sale. Meanwhile, Hal finds his old pirate radio transmitter and restarts the station he ran in college under the pseudonym Kid Charlemagne. However, he ends up being arrested by the police when they overhear nasty things about them and the government. Malcolm finds an old computer worth over thousands of dollars and tells Lois about it. After Reese intentionally destroys it, she reprimands him and reminds Reese that they desperately need the money. At the ranch, Francis uses a sock puppet to help Otto deal with his estrangement from his son Rutger, an experience that helps him say just what Lois needs to hear when he calls home.
79
16
"Academic Octathalon"
Todd Holland
Rob Hanning
April 13, 2003
06-02-411
Mr. Herkabe forces Malcolm to join the academic octathlon team in an expensive hotel, where he encourages them to cheat, so Malcolm chooses to make everyone pay by giving all of the teams the results of the contest which he stole, and as he expected, ends up in a disaster. Dewey alienates Hal after telling him he's too big for their bedtime ritual. Reese tries to avoid going to a dance with Alison because he fears that she will dump him, but Lois forces him to keep his promise.
80
17
"Clip Show 2"
Levie Isaacks
Maggie Bandur & Dan Kopelman
April 20, 2003
06-02-422
In this second clip show, Hal and Lois are penning their will, and think back to all the trouble their sons put them through. Hal forewarned against making out the will because neither he and Lois are equipped for the task and wanted to go to a professional to make out the will.

Note: Frankie Muniz and Christopher Masterson only appear in the flashback scenes. Other than the flashbacks, Justin Berfield only appears in the teaser and Erik Per Sullivanonly appears in the last scene.

81
18
"Reese's Party"
Levie Isaacks
Andy Bobrow
April 27, 2003
06-02-418
Reese decides to throw a party while Lois and Hal take a weekend break for one last romantic getaway before the baby is born. Unfortunately, he invites Francis' friend, Donnie and his gang (on the same night that Malcolm had planned a romantic dinner with his new girlfriend, Kathy), and they turn the party into a crystal meth operation. When Francis fails to blackmail Donnie into leaving and leaving Craig as their hostage, Dewey ends up solving the situation by tattling on the delinquents to their mothers, who quickly show up to pick up their children and give them a piece of their minds. Francis, Reese and Malcolm are actually grateful to Dewey for once in saving them. Meanwhile, Hal and Lois are having a miserable time at the honeymoon hotel after it was revealed that Hal lied to Lois about him getting a Vasectomy. They return home to find everything normal.
82
19
"Future Malcolm"
Ken Kwapis
Teleplay by: Michael Glouberman & Andrew Orenstein

Story by: Ron Corcillo & A.J. Poulin

May 4, 2003
06-02-417
At the park, Malcolm meets a depressed middle-aged man (Jason Alexander) who may be his future self, as they have so much in common. Fearing that this might be him, Malcolm tries to help him to improve his way of life and broaden his horizons in more than playing chess in the park. Meanwhile, Francis gets a swelled ego when he and Piama find employment as nude models.
83
20
"Baby: Part 1"
Jimmy Simons
Rob Hanning
May 11, 2003
06-02-419
Lois goes into labor while Hal and the boys are at a bridal exposition (which Hal had mistaken for car exposition). Ida moves in after her apartment burns down and she refuses to stay with Susan. After realizing that Ida has a fear of black people, Francis, Lois, and Piama enlist Abe and his poker buddies to help scare Ida out of the house. Meanwhile, Malcolm has been accepted to a boarding school in England, and he is overjoyed to go to have a new life, away from his parents and his miserable life. Hal forbids him to go and has a heart-to-heart talk with Malcolm. He is finally convinced to stay home when he realize the family cannot function without him(showing that Hal does appreciate Malcolm). Stunned at the date his parents chose for the baby's planned delivery, Dewey reveals the date is his birthday in an announcement at the exposition to humiliate Hal, leaving him stunned to face the unhappy crowd and even Malcolm can't find a solution. After collecting Dewey, Hal and Malcolm finds a trapped Reese in a cello case after hearing that he enraged a man who owned the tuxedo.

Note- Jane Kaczmarek was nominated for a Primetime Emmy Award for this episode.

84
21
"Baby: Part 2"
Jamie Babbit
Michael Borkow
May 18, 2003
06-02-420
A frantic Hal crashes the car while trying to get home to Lois, who has gone into labor. Meanwhile Reese, Malcolm, and Dewey take a parenting class to be better brothers to their new sibling, but realize everything they were taught in the class is the opposite of what their parents did for them (or didn't do since Hal and Lois were usually too busy having sex). Piama and Lois trick Susan and Ida into clearing up the misunderstanding between them to get Ida to leave. Francis is forced to help Lois give birth when the paramedics don't arrive in time. They manage to deliver the baby, who is named Jamie (although the gender is deliberately not revealed).

Note- Jane Kaczmarek was nominated for a Primetime Emmy Award for this episode.

85
22
"Day Care"
Steve Love
Gary Murphy & Neil Thompson
May 18, 2003
06-02-421
A church-run daycare center accepts Lois' wailing newborn, but it comes with a price. Not only that Reese, Malcolm, and Dewey must attend Bible-study classes, but Hal and Lois are expected to take part in the church community, or no day care for the baby. Malcolm and Dewey both hate it, Hal bonds well with the church members, Reese accepts God and Lois had an epiphany of being a terrible mother to her own children (after a terrible day with a child from the church's daycare). Meanwhile, a rival ranch reports an alien sighting, so Francis organizes a sighting on Otto's ranch... which gets him arrested by the government. Note- Bryan Cranston was nominated for a Primetime Emmy Award for this episode.
86
1
"Vegas"
Bryan Cranston
Michael Glouberman & Andrew Orenstein
November 2, 2003
06-03-501
While Francis is trapped with Otto in a well he was supposed to fix, a fire erupts in the barn (also Francis' fault). Meanwhile, the family travels to Las Vegas, where Reese and Dewey show an obese rabbit at a competition, Hal is convinced he has had a prophetic dream about winning at a slot machine, and Lois goes backstage with her favorite singer Boone Vincent (David Cassidy); they chat about their private lives and she gives him parenting advice.

Note: The pre-credits scene reveals that Jamie is a boy.

87
2
"Watching the Baby"
Levie Isaacks
Alex Reid
November 9, 2003
06-03-502
Attractive, popular girls want to be seen with Reese, Malcolm, and Stevie as revenge on their boyfriends, so the boys stick Dewey with babysitting Jamie. Dewey tells Jamie an elaborate story in which their parents are secretly wealthy and have a hidden "secret good house" in their closet. Working for Craig at the Lucky Aide when he can't pay for Jamie's diapers, Hal discovers that Craig tortures the graveyard-shift employers while he does nothing, so Hal helps them rebel.
88
3
"Goodbye Kitty"
Jimmy Simons
Gary Murphy & Neil Thompson
November 16, 2003
06-03-503
When Stevie finds out his mother has divorced his father, he falls into a depression and Malcolm tries to cheer him up. Lois' high-school diary falls into Reese's backpack and he reads it and becomes infatuated with the diarist--and is horrified to find out her identity. Dewey regresses into babyhood. Meanwhile, neither Francis nor Otto can bear to put a horse with a deadly infection to sleep.
89
4
"Thanksgiving"
David D'Ovidio
Matthew Carlson
November 23, 2003
06-03-504
Reese displays monomania and incredible culinary genius and talent and aspires to prepare the perfect Thanksgiving dinner with Hal and Dewey's help. Lois intervenes when Francis and Piama seem headed for divorce. Meanwhile, Malcolm goes to a party instead of staying with the family; he spends half the time wondering if Kirstin (Alessandra Torresani) is flirting with him, then he gets completely drunk and they end up making out, then he freaks out when he finds out she wants to have sex with him. He leaves the party, arrives home drunk, and vomits into the turkey. Later he regrets not having sex with her, and Francis cheers him up by naming all 12 punishments Lois gave him (9 of them while he passed out).
90
5
"Malcolm Films Reese"
Levie Isaacks
Dan Kopelman
November 30, 2003
06-03-505
Malcolm films Reese for a school psychology assignment, then discovers that he is an unwitting participant in one of Mr. Herkabe's experiments, causing him to be portrayed as a sadistic maniac, also losing Reese's trust. To get back at Herkabe, he gets into his office to reveal the other students' dirty secrets (also his own as payback to Reese), causing everybody to distance themselves in shame, only for him to get suspended. Meanwhile, Hal fears he'll lose his job when top officials at his company are arrested for embezzlement. Lois' washer and dryer keep breaking down. When Dewey skips school he starts earning big money working as a street magician.
91
6
"Malcolm's Job"
Steve Welch
Maggie Bandur
December 7, 2003
06-03-506
Lois makes Malcolm and Reese get jobs. Reese finds a job at the local slaughterhouse, but Malcolm is forced to work with Lois at the Lucky Aide. Malcolm catches Lois smoking on her break and thinks she's a hypocrite. Hal takes a nursing class run by Polly to spend more time with Jamie, but he and the other dads soon start betting on their babies (biggest burp, fullest diaper etc.). Meanwhile, sick of Reese and Malcolm's bullying, Dewey runs away to the ranch to visit his "good brother," Francis.
92
7
"Christmas Trees"
Steve Love
Alex Reid
December 14, 2003
06-03-507
Hal, Reese, Malcolm, and Dewey go into business selling Christmas trees, with the boys using some of their own money (before Reese almost got tricked into an advance-fee scam), but two priests send homeless people to their business, trying to sabotage their sale (since Hal is selling the trees cheaper than the church), who frighten away the customers. Craig is bitten by a squirrel, and Lois orders her co-workers and some homeless people to catch the squirrel to prove that Craig won't need the very-painful shots. When Otto's family visits the ranch, they seem so much like Francis' family that he gets homesick.
93
8
"Block Party"
Levie Isaacks
Rob Ulin
January 4, 2004
06-03-508
Returning early from vacation, the family discovers that their neighbors have been celebrating their yearly absence with a block party. Reese and Dewey scheme to make quick cash by letting kids beat up Reese, Hal and Lois join the kielbasa-eating contest, and Malcolm inadvertently aids a burglar. Meanwhile, Francis finds himself assigned to breeding cows, the most disgusting job at the ranch.

Note- Jane Kaczmarek was nominated for a Primetime Emmy Award for this episode.

94
9
"Dirty Magazine"
Bryan Cranston
Eric Kaplan
January 11, 2004
06-03-509
Malcolm decides to publish a student's brilliant story in the school newsletter despite its vulgar language. After the ACLU forces him to not censor the story, Principal Block (Kurtwood Smith) decides to cancel all extracurricular activities rather than "turning their high school into an adult bookstore". They even blackmail him with threatening the student to be expelled if he doesn't comply. He gets revenge on Block by publishing his own magazine just outside the school grounds (50 m away from the gates), also containing the story.
95
10
"Hot Tub"
Jimmy Simons
Andy Bobrow
January 25, 2004
06-03-510
Hal buys a hot tub without telling Lois, but it turns into a swamp when he neglects to clean it. Malcolm finally gets his learner's permit, and gets mixed up in a fight between Polly and her ex-boyfriend. Reese steals Dewey's new friend Noah, who had actually befriended Dewey to get to Reese to ask him to beat up Noah's bullies. Meanwhile, Manfred Schmidt--former fiance to Gretchen, former best friend to Otto--visits the ranch.
96
11
"Ida's Boyfriend"
Peter Lauer
Neil Thompson
February 8, 2004
06-03-512
Ida plans to drug, marry, and bilk a wealthy Chinese man (James Hong), then divorce him and get his money. Malcolm gets his tongue pierced but it then swells up and he must hide it and the resulting lisp from Lois until the wedding ends. Meanwhile, Reese has saved up the money to buy a special model ship for Dewey - just to smash it up in front of him! So Dewey goes to great length to pretend Reese doesn't exist, and Reese is horrified enough to try to apologize.
97
12
"Softball"
Ken Kwapis
Michael Glouberman
February 15, 2004
06-03-511
Malcolm joins the Lucky Aide softball team to get away from Lois's wrath on the job--but she has recently become the coach! A better discovery he makes is that Craig is an amazing softball player. Francis drives cross-country on his pick-up truck back to the house (missing his anniversary with Piama) and scopes through his past to prove to Lois that he is not lazy, but Lois refuses to say that she wrong and apologize until Hal intervenes again. Meanwhile Dewey dares Reese to outdo one of Francis' old stunts (collecting the biggest number of toilet seats in a yard full of wild dogs with a ham in his pocket, which he actually does, breaking his record. Francis lectures him for doing such a dangerous stunt - then manages to get his record back.
98
13
"Lois' Sister"
David D'Ovidio
Gary Murphy
February 22, 2004
06-03-513
Lois' sister Susan (Laurie Metcalf) visits, bringing Reese and Malcolm a red 1967 Ford Mustang Fastback Convertible, Dewey a big cotton-candy machine, and Jamie a $5,000 savings bond. Suspicious about this generosity, Lois and Hal take the engine out of the car and lock the cotton-candy machine in the garage. Dewey breaks into the garage to use his new machine, and Reese and Malcolm have the Mustang towed onto a cliff, then lead it down for a big speed and drive to a keg party, but as the police arrive, they block other people's cars and all are arrested. Lois eventually learns that Susan needs a new kidney and that she's still bitter that Lois stole Hal from her. Meanwhile, Francis "leads" a group of Girl Scouts on a wilderness campout journey through the desert.
99
14
"Malcolm Dates a Family"
Steve Welch
Rob Ulin
March 14, 2004
06-03-514
Lois boycotts the family's favorite restaurant, Luigi's, but Hal and the boys sneak Luigi's pizzas in the garage. Malcolm gets more involved with his new girlfriend's (Sara Paxton) intellectual family than with her, and she eventually ditches him for ignoring her, forcing the family to kick him out and replace him with Stevie. Meanwhile, the family is watching a TV report about Lois' scheme to close Luigi's when they catch Malcolm there with his friends and Reese confesses that they've been sneaking pizza too, but he tries to save himself by offering a video of Hal's 5-minute imitation of her.
100
15
"Reese's Apartment"
David Grossman
Dan Kopelman
March 21, 2004
06-03-515
Lois and Hal find out about the most disgusting and terrible thing Reese has done yet (which is never revealed); even Hal snaps, and they kick him out of the house after he stands up to them. Francis tries to defend him and bring him home (without knowing what he did), while at home, Dewey enjoys trashing Reese's things and sleeping on his bed, fully intending to keep Reese out of the house. Meanwhile, Lois finds out that Reese's grades are improving and he takes care of himself--maybe he's better off there? They soon get their answer when they find out he is $20,000 in credit-card debt. They drag him home and Malcolm narrates that she has spent over a month to find the suitable punishment for him.
101
16
"Malcolm Visits College"
Peter Lauer
David Wright
March 28, 2004
06-03-517
Malcolm looks forward to visiting college — until Lois comes along and they meet the power-hungry dorm head, Leland. Lois turns the kids against him, determined to get Malcolm safety, but he himself doesn't know for who will he vote(as Malcolm secretly supports Leland more since he is the only one aside Francis that is not afraid of Lois). After Hal refused to buy Dewey a piano, Dewey steals items around the house to drive Hal crazy until he builds one from the items he stole. Reese pretends to be a drug dealer to go out with the school's narc, who turns out to be an undercover cop. Francis and Otto try to help out at a daycare, but Otto gets the kids drunk.
102
17
"Polly in the Middle"
Steve Love
Matthew Carlson
April 25, 2004
06-03-516
Polly the babysitter (Julie Hagerty) is caught in a love triangle between Abe and Craig after Lois sets her up with Craig and Hal sets her up with Abe - unbeknownst to each other--and she enjoys spending time with both of them. Craig and Abe finally find out about each other and fight for her.
103
18
"Dewey's Special Class"
David D'Ovidio
Maggie Bandur
May 2, 2004
06-03-519
Malcolm coaches Dewey on how to "throw" an IQ test so he will not end up in the Krelboyne class. When he lands in the emotionally disturbed "Busey" class instead, he takes it over from the incompetent teacher and tells Lois about Malcolm's plan, getting him grounded. When Dewey gets the chance to leave the Buseys, he decides he can't abandon his new friends, so he acts disturbed to keep his place there. Meanwhile, Reese tries to figure out what type of genius he is; and Hal and Craig enter a Dance Dance Revolution-style contest.
104
19
"Experiment"
Bryan Cranston
Alex Reid
May 2, 2004
06-03-518
Stevie and Malcolm try to figure out how Reese managed to separate two bases for an enzyme for a medical experiment when he refuses to tell them. After he agrees, they manage to get him to rewind his day to find out how he managed to do it. Dewey sells chocolate bars by fibbing (with Francis' help). Meanwhile, Francis teaches assertiveness to a runt pig, resulting in a huge chaos.
105
20
"Victor's Other Family"
David Grossman
Eric Kaplan
May 9, 2004
06-03-520
Lois, Reese, Jamie, and Malcolm go to Canada to meet Victor's secret family. The boys get along and even have fun with their newfound cousins, and everything is fine until Ida arrives, demanding Victor's pension. Lois reluctantly helps her get it (it's only $43.50 a month, Canadian) until she discovers that Victor is not her biological father. Meanwhile, Dewey dreads Hal running with him since bad things always happen before such events between them. At the Ranch, Francis must deal with an amorous horse and cow sharing a stall together. Betty White guest stars as Victor's other wife, Sylvia.
106
21
"Reese Joins the Army: Part 1"
Steve Love
Andy Bobrow
May 16, 2004
06-03-521
Reese's new girlfriend Beth is about as dumb as he is. Malcolm initially dislikes her but they soon get to like each other too much and Beth breaks up with Reese. Devastated, Reese runs away and joins the army under the false surname "Jetson." Hal's company goes under à la Enron, and two corrupted FBI officers want him to falsely testify against an employer. He refuses, but they have him arrested when the employer provides false testimony against Hal. Lois stresses-out when she must work overtime at Lucky Aide to make ends meet; eventually her snappy demeanor and mounting mental instability get her fired. Instead of being mad, she pretends nothing is wrong and takes a cold shower with her clothes on. Meanwhile, Dewey enters a piano contest and is angry when no one notices... even when he leaves town for it and wins!(mainly due to both Francis and Piama dealing with both disciplining Malcolm for his selfishness and Lois' mental instability)
107
22
"Reese Joins the Army: Part 2"
Peter Lauer
Andrew Orenstein
May 23, 2004
06-03-522
The company uses Hal as a scapegoat and Lois has become more mentally unstable. When Francis learns that she may no longer be able to care for his siblings, he enlists Malcolm to help forge their father's signature in a legal document, declaring her mentally incompetent (which fails because Reese knows Hal's signature, while Malcolm knows Lois's). Meanwhile, Reese becomes a top-class soldier in training and makes his way with his squad into a Ranger mission in Afghanistan. At the house, Malcolm encourages Hal to testify in his own defense when he reveals he has skipped work on Fridays in 15 years, providing evidence of his absence for Fridays and destroys the prosecution's case against him. However, Lois snaps out of it in time to reprimand Hal when she finds out about it.
Reese, as soon as he lands on the Afghanistan, panics and deserts the army. He dresses as an local tribe woman to help him get away, accidentally getting married in the process. Lois, having recovered from her mental breakdown and on a mission to find him, travels to Kabul, selling the family car to afford the trip and hiring locals for the help. Meanwhile, Malcolm volunteers at a veterans' hospital as a way to make up for his guilt of making Reese leave, but Dewey makes him realize he shouldn't do good things to honor Reese, but that, instead, he should cause the sort of mayhem Reese always caused.
109
2
"Buseys Run Away"
Bryan Cranston
Michael Glouberman
November 14, 2004
06-04-601
After learning that Dewey will be leaving their class, the Buseys run away and hide in the trees near his house, forcing Dewey to look after their needs. Unemployed Hal becomes the leader of a group of dimwitted body builders, eventually learning them basic things, and they making favours for him. Meanwhile, Lois punishes Reese and Malcolm for their firework fiasco in the movie theatre. This causes both of them to believe Dewey told on them and tries to entrap him, but ends up being punished even more.
110
3
"Standee"
David D'Ovidio
Rob Ulin
November 21, 2004
06-04-603
When Hal and the garbageman get into a trash-dumping war (which benefits Dewey because the house ends up with a big pile of trash, which means Dewey can't get to school and imagining the trash as snow), he enlists Reese's help to steal his garbage truck. Meanwhile, Lois gets her job back at Lucky Aide (on probation), and fights against Malcolm in order to take down an offensive store display of a smiling black janitor holding a mop and a 6-pack of malt liquor. Soon it's an all-out war between mom and son - until Lois encounters a fellow employee who offends her even more than the display does. After Lois decides to keep the display up, Malcolm is revealed to hate it as much as she does, but wants to dispose of it without feeling his mom is in control. He decides to leave it to chance by flipping a coin, but ends up landing on its side, hinting that Lois will forever control him.
111
4
"Pearl Harbor"
Peter Lauer
Neil Thompson
December 5, 2004
06-04-606
Jessica (Hayden Panettiere), Malcolm and Reese's teenaged neighbor, tricks each of them into believing the other is gay. Meanwhile, Hal, tired of competing with a neighbor who always outdoes his Christmas decorations, decides to create his own "holiday" to decorate his house for Pearl Harbor Day. Meanwhile, Dewey is doing a report on Hal being his hero, but when Hal rips his report because Dewey lied about him, Dewey quits his report on Hal and decides to do his report on Lois, which makes Hal heartbroken and saying things like this "I certainly liked it when the father was stabbed in the back by his son."
112
5
"Kitty's Back"
Peter Lauer
Matthew Carlson
December 12, 2004
06-04-604
Kitty (Merrin Dungey) returns after having done everything imaginable and wants to return to her family, to Lois's dismay. Francis comes home and puts Dewey through the torturous "Brotherhood Initiation", then teaches Dewey about a fool-proof way to get out of trouble from his parents. Malcolm helps Stevie write an acceptance speech for his etiquette award, and Reese gets a full-body sunburn so he can peel his entire body at once. But when nobody cares about Reese shedding, he decides to mess up Stevie's speech which ends with him punished by Lois.
113
6
"Hal's Christmas Gift"
David Grossman
Alex Reid
December 19, 2004
06-04-605
Hal and Lois are strapped for cash as Christmas approaches, and things are made even worse when the now unemployed and broke Francis and Piama (due to some shenanigan where all of Otto's checks ended up in a fake ATM) decide to come home for the holiday, and Lois got into a car-crashing war with a woman (because she hit her car door on Lois' car and wouldn't apologize). As a result, they decide that the Christmas gifts will have to be homemade this year. When the family makes much better gifts than Hal, he promises them that he's going to take them somewhere wonderful and drives around aimlessly looking for somewhere that's as amazing as he claims, open on Christmas Day and is free. However, just as things are looking their bleakest, the family discover where Malcolm really got his 'home-made' gifts from. Meanwhile, Malcolm feels excluded when Reese and Dewey do fun stuff together.
114
7
"Hal Sleepwalks"
David D'Ovidio
Gary Murphy
January 16, 2005
06-04-607
Hal gets so stressed out over finding a 20th anniversary present for Lois that he starts losing sleep, which prompts Reese to try to brainwash his semiconscious father late at night for ridiculous things, but realizes Hal chose Reese because he was more normal than the other boys (even Jamie). A school bully nominates two of Dewey's classmates for student body president, and Dewey nominates him (because it would be shameful to lose to a Busey), sparking a bizarre three-way election battle. Malcolm takes up the electric guitar despite Lois' warnings that he will fail at it, (because he gets a letter to tour Europe and feels he should do something to balance it out) and writes a song to the tune of the Meow Mix jingle without realizing it.
115
8
"Lois Battles Jamie"
Steve Welch
Michael Glouberman
January 23, 2005
06-04-608
Lois begins to think she is losing her touch when Jamie seems too much for her to handle. When Hal realizes that Lois is losing her confidence, he brings Francis home in order for him to explain to Lois how was she able to have confidence as a mother, but when she regains her confidence, Lois finds out that Reese has feeding Jamie "super energy soda", causing him to go berserk. Meanwhile, the other boys bring home a diving board and Reese tries to think up the craziest possible stunt to pull with it, eventually going crazy. Reese finally admits that he feels that he is not into stunts again, that is why he wants to do the craziest stunt.

Note- Jane Kaczmarek was nominated for a Primetime Emmy Award for this episode.

116
9
"Malcolm's Car"
Peter Lauer
Alex Reid
January 30, 2005
06-04-610
When Malcolm spots a decrepit 1968 Plymouth Barracuda V8 in his neighborhood on sale, he instantly falls in love with it and purchases the car. But he gets so caught up in the difficult task of restoring it that he blows off Stevie as well as Reese who needs him for an illegal betting scheme of his, during which Reese wins 11,500 dollars which he cannot pick up since Malcolm refuses to help him. Malcolm eventually learns a hard lesson about making time for others when he is trapped within his own car. Hal, on the other hand, is having success when he stumbles upon his hidden talent: hairstyling. Lois doesn't have time to worry about Malcolm or Hal, as she is caught up in scandal between Craig and their Lucky Aide boss Fred. Craig says he is taking time off to tutor Fred's wife in golf, but Lois finds out he is actually having an affair with her.
117
10
"Billboard"
Bryan Cranston
Rob Ulin
February 13, 2005
06-04-609
When Lois catches the boys vandalizing a trashy billboard for a strip club, Malcolm alters the vandalism into a women's rights protest to avoid a punishment, which sparks a colossal media circus. In no time, feminists, conservative religious groups and national news reporters descend on the scene. After Hal grants a TV interview, a woman from his past turns up at the faux protest; and Reese, inspired by the giant billboard stripper who comes to life in his dreams, gives an impassioned speech about the objectification of women, while Lois tries to find a way to get the boys down without creating a wrath in front of the media.
118
11
"Dewey's Opera"
Linwood Boomer
Eric Kaplan
February 20, 2005
06-04-611
When Lois buys a brand-new king-sized bed, Hal thinks that her motive is to put more distance between them and refuses to sleep in it. Moved to tears by an opera he sees on television (and then beaten up by the brothers), Dewey is inspired to write his own operatic masterpiece, "The Marriage Bed," which is based on his parents' fight and turned into a school production. Meanwhile, Malcolm and Reese build their own street luge board and Malcolm gets into a feud with a mystery rider who keeps forcing him off the road. When he makes a bet against the mysterious street luger, he's horrified to learn it's Stevie and loses his bet.
119
12
"Living Will"
Steve Love
Jennifer Celotta
March 6, 2005
06-04-612
Hal is named executor of his neighbor's living will and must decide whether to keep him on life support or pull the plug. However, Hal has long had a particularly difficult time being decisive and had always deferred to Lois. The stress of making this life-or-death decision induces a psychosomatic paralysis of his upper body. However, Lois snaps Hal out of it when she reminds him that he made a good decision once by marrying her instead of Susan. Meanwhile, Craig asks Malcolm, Reese, and Dewey to teach him how to fight dirty since a bully from his childhood is coming back to town, which is revealed to be his own father.
120
13
"Tiki Lounge"
Peter Lauer
Jay Kogen
March 13, 2005
06-04-613
When Hal and Lois realize how little time they spend together, Hal turns the garage into a private tiki lounge where he and Lois can retreat. Things go smoothly until they feud over philosophical beliefs, eventually stressing out in the lounge. Meanwhile, Mr. Herkabe cons Malcolm into joining the Booster Club, where he learns a lesson about taking one for the team.
121
14
"Ida Loses a Leg"
Steve Welch
Andy Bobrow
March 20, 2005
06-04-614
During Grandma Ida's unwelcome visit with the family, she loses her leg while saving Dewey from a moving truck. Consumed with guilt, Dewey is determined to find Ida's leg and give it the proper burial. Francis, on the other hand, begrudgingly becomes the caretaker for his stubborn, cranky grandmother at Lois' admonition. He soon learns that not only he and Ida both despise Lois, but she was responsible for leaving him at his grandmother's house. Meanwhile, Malcolm and Reese get a new idea for a prank that forces them to stay awake for days on end to avoid the embarrassment of having their faces glued to the floor (which causes them to glue themselves in the floor anyway).
122
15
"Chad's Sleepover"
David D'Ovidio
Rob Ulin
March 27, 2005
06-04-615
After Hal forbids Dewey from inviting his peculiar classmate Chad over for a sleepover, Dewey asks Lois instead. Meanwhile, Malcolm and Reese find out that they are not as popular as they once thought (because there was a Ditch Day, and no one told them), then plot "revenge" on their classmates. Lois searches for the warranty papers on her 10-year-old blender that she wishes to return for minor infractions. As she searches for it, Chad places an envelope at the end of Lois's papers containing a pornographic photo of a sleeping Lois taken by a drunk Hal. Hal gives Chad a book with a highlighter to write in, but his obsessive-compulsive disorder leads Chad to inadvertently revealing the pornographic picture to Lois.
123
16
"No Motorcycles"
Jimmy Simons
Andy Bobrow
April 3, 2005
06-04-618
When Francis and Piama choose to celebrate Francis' 21st birthday at the house, Hal is reminded of a promise he made to his son as a young child after missing his son's play, involving a motorcycle trip that Lois quickly forbids. Hal and Francis have no choice but to sneak off for their wild adventure, leaving their women behind. Hal and Francis have a great time until it emerges that Francis has been attending Alcoholics Anonymous meeting, upsetting Hal who is reminded of just how much he's missed out on. While this is going on, Lois and Piama finally start to bond over their anger towards their husbands. Meanwhile Malcolm, Dewey, and Reese are held captive in their own home by a bully who is wanting to beat one of them up and willing to wail on the other two to get to him. Although they don't know who the bully is after, Reese and Dewey go out and take a beating however Malcolm is too scared to do it himself even when it seems he is who the bully is after. When the bully enters the house, he discovers he's at the wrong address and leaves. Although Malcolm is happy to have apparently escaped, Reese and Dewey are furious that he was saved by his cowardice and beat him up themselves.
124
17
"Butterflies"
David Grossman
Michael Glouberman
April 10, 2005
06-04-616
Malcolm discovers a man, Norm, living in the Lucky Aide. He agrees to keep Norm's secret as long as he provides Malcolm with tidbits on his new crush, a fellow Lucky Aide employee, until Lois finds out. Meanwhile, when Reese takes a job as an exterminator, he quickly learns that to drum up business he must infest the neighbors' lawns with caterpillars. But instead of spreading the pests, he has a change of heart and begins to nurture them, only to be overwhelmed when they turn into butterflies and swarm on him. Malcolm's try to impress his crush gets wrong when he reveals too much information, making her think that he is stalking her.
125
18
"Ida's Dance"
Steve Welch
Eric Kaplan
April 17, 2005
06-04-619
Lois goes over to visit Ida, but gets unpleasantly surprised by the St. Grotus Day festival from "the old country", where Ida and her elderly friends make Lois miserable and force her to bake a huge and complicated tart (and bringing one of their own just to piss her off). In retaliation, she humiliates them by stomping on the tart itself and angers Ida. Malcolm fails a music appreciation course, and reluctantly goes to Dewey for some tutoring, who enjoys the situation but then, Malcolm causes them both to become temporarily deaf. Reese and Hal secretly watch scary movies while Lois is not around, but it ends up revealing some unexpected secrets about both Reese and Hal.
126
19
"Motivational Speaker"
Steve Love
Rob Ulin
April 24, 2005
06-04-620
Reese begins hanging out with a pack of dogs who think of him as their new alpha leader, and in the end, the police catches him doing the most unbelievable thing (on a local farm). Dewey gets in trouble with Lois, after she finds out that he is seeing another mom, and attempts to get her back with a huge tattoo on his chest, which deeply moves Lois, but also causes her to get angry, and Hal accidentally becomes a motivational speaker with his co-workers when the real motivational speaker made everyone but him upset because he wasn't listening, but drops it when he motivates a man into taking over his job.
127
20
"Stilts"
Linwood Boomer
Michael Glouberman
May 1, 2005
06-04-622
After Lois and Hal are reminded of the tight budget they must uphold, Hal discovers one of his boys has been dialing a 900 number. His attempt to explain the error to the hotline's billing department turns awry when he forgets to hang up the phone one evening and finds out about it in the morning, incurring a whopping $800 charge. Meanwhile, Reese takes a job at a research clinic that pays him to pop experimental pills, leading to absolute misery and a ride on police horse, and a reluctant Malcolm takes on a mortifying job at the Lucky Aide as a costumed Uncle Sam on stilts. Finally, Dewey discovers Jamie is finding old things Francis hid from Lois, but when they turn out to be stolen, it becomes clear Francis pawned them off.
128
21
"Buseys Take a Hostage"
David D'Ovidio
Gary Murphy
May 8, 2005
06-04-621
When Hal decides to attend his first annual Neighborhood Association meeting with Malcolm, he is strongly encouraged to take on the role of President. Being his dad's right-hand man, Malcolm sees a perfect opportunity to add some excitement to the community, while Hal's agenda is a little bit different (Ex: giving people tickets for not hugging their children). Meanwhile, Francis takes on a new job as a camp activities coordinator and turns to Dewey for his input on some creative new games, only for Dewey to discover the games are actually for kids with disabilities like autism or intellectual disability. While Dewey revels in his afternoon of fun, his fed-up classmates take their teacher, principal and janitor hostage. Dewey and Francis teams up and bring order back to the school when they learn that the principal and Mr. Flerch has been using them as slaves in their own get rich quick scheme. Reese has to study hard for his finales, but not in the way most other people would.
129
22
"Mrs. Tri-County"
David D'Ovidio
Gary Murphy
May 15, 2005
06-04-617
Unbeknownst to Lois, the boys enter her in the Mrs. Tri-County Pageant as a joke. When they overhear the other contestants remarking that Lois doesn't have a chance of winning, they plot to help their mother take the county crown. Meanwhile, Malcolm is blackmailed into delivering love notes to a contestant for Herkabe, and Reese discovers that, according to the Mrs. Tri-County Pageant manual's scientific formula, he is beautiful, but he can't participate, as the formula only applies to middle-aged women.
130
1
"Burning Man"
Peter Lauer
Michael Glouberman
September 30, 2005
06-05-701
Malcolm and Reese's attempt to hitch their way to the annual Burning Man festival, turns into a family vacation when Hal and Lois get in on it, and they rent a RV from Hal's boss. On the festival, everyone seems to enjoy except Hal and Dewey; Hal is scared with the Burning Man attendants who mistake his bourgeois lifestyle as an ironical persiflage of society, while Dewey doesn't get to enjoy the event as Hal has him doing all the chores around the RV. Meanwhile, Reese fits in with the festival, and Malcolm loses his virginity to a healer (Rosanna Arquette). Lois ends up having a blast, and Reese relents to "burn the man down", not accepting that the festival has ended, and he accidentally torches the RV. Afterwards, Hal and Dewey are forced to work "dirty jobs" to repay the RV, Malcolm ends up depressed, while Lois and Reese agree in secret to return the following year.
131
2
"Health Insurance"
Steve Welch
Rob Ulin
October 7, 2005
06-05-702
Hal finds out that the family has been without health insurance for six months and tries to safeguard the house until Monday (when the insurance is put back into effect), and his over protection of the house and the boys (who planned a disaster scheme of their own) ends up when he accidentally breaks his leg, which brings him in tears. He then goes to great lengths to try to keep Lois from finding this out, if he can bribe Dewey long enough to remain silent. Meanwhile, Lois tries to fish out a snitch at the Lucky Aide store, going overnights to catch him.
132
3
"Reese vs. Stevie"
Linwood Boomer
Alex Reid
October 21, 2005
06-05-703
An angry Reese threatens Stevie, who dreads a retaliation; Dewey gets hooked on cigarettes, thanks to ex-smoker Hal's many stashes around the house. Lois tries to get Jamie to talk by telling him her modern life and her high school years, but his only words are spoken similar to Francis' own ("Shut up"). When the time comes for Reese and Stevie to fight, Reese tries to make it fair by turning his legs limp in ice water, but Stevie has done just the opposite, and steals a robot exoskeleton from a college project he is into, beating him up badly. In the end, Dewey is grounded, Stevie is kicked out from the project for unauthorized use of equipment, and Hal has to find all of his stashes, or, as Malcolm says, "Lois will make him eat them", and he finishes with bringing a new bedpan for the incapacitated Reese.
133
4
"Halloween"
David D'Ovidio
Andy Bobrow
October 28, 2005
06-05-704
Hal freaks out when Malcolm gives him the details of a grisly mass murder that occurred in the house years ago. Lois gets stuck working on Halloween and catches a shoplifter as everyone else at Lucky Aide throws a wild party. Reese and Dewey lose track of Jamie as they flee from an old man after egging his house, while Lois gets arrested for kidnapping when she picks up the wrong child. Meanwhile, Jamie returns to the house and eats too much candy in the shaft, and he accidentally scares Hal and Malcolm, which causes Malcolm to jump out of the window.
134
5
"Jessica Stays Over"
Alex Reid
Matthew Carlson
November 4, 2005
06-05-705
Jessica (Hayden Panettiere) moves in on a temporary basis and teaches Malcolm how to manipulate others, but when he uses her tricks on Lois he feels something he has never felt before, empathy. Meanwhile, after he harvests some fresh honey, Hal fights back against a bee who is out for revenge for killing the rest of his hive. Reese attempts to mail himself to China in a crate after his Chinese pen-pal refused to give him fireworks and Dewey has him convinced that he has been in there for months and takes advantage of Jessica's boyfriend to beat Reese up.
135
6
"Secret Boyfriend"
Peter Lauer
Gary Murphy
November 11, 2005
06-05-706
Malcolm's in love with a hot and secretly brainy teen named Vicki (Sarah Wright) who fears ruining her image by seeing him publicly. Soon, he learns the truth from Jessica and eventually starts a relationship with her. Reese is kicked out of the house for refusing to get a job, but Lois lets him live back in to take care of him. However, Reese decides to get a job after having a nightmare that he will have to take care of Lois 24/7. Meanwhile, Hal is in a heated conflict with the owner of the miniature golf course because he won't give Dewey a free game (even though the ball was stuck). In turn, he teaches his father a lesson by locking him up in one of the displays because he never listened to him when he told him he was ok with not getting a free game.
136
7
"Blackout"
Steve Welch
Eric Kaplan
November 18, 2005
06-05-707
A power outage caused by Jamie's balloon disrupts Lois and Hal's anniversary and reveals Malcolm's trysts with young European women, while Reese tries to cook Kobe beeffor Hal and Francis tries to steal a fish he and Hal caught years ago, and Dewey is upset he won't pick dinner. The entire sequence of events is revealed through several replays from different points of view, which all start from the outage.
137
8
"Army Buddy"
Peter Lauer
Neil Thompson
December 2, 2005
06-05-708
Reese's old army buddy, Abby (Larisa Oleynik) visits and she has feelings for Lois. Reese takes it the totally wrong way, believing he has a shot at her, after Malcolm suggests this to Reese.
138
9
"Malcolm Defends Reese"
Bryan Cranston
Matthew Carlson
December 16, 2005
06-05-709
Malcolm and Reese end up in the same class since Reese failed the previous year. Mr. Herkabe, who may lose his award for the school's highest GPA to Malcolm, gleefully humiliates Reese every day until he agrees to start failing his classes. Malcolm gets his revenge on Herkabe by telling the principal, Mr. Hodges (Steve Vinovich), his teacher's secret. He immediately revokes Mr. Herkabe's GPA award as his punishment for flunking Gym and returns it to Edna Thornby. End result: Herkabe has to retake gym and endures humiliation with Reese tossing dodgeballs at him. Meanwhile, Jamie's new babysitter (Kathryn Joosten) drives Lois crazy with her nonstop talking. This episode features Hopsin, before he was a well known rapper.
139
10
"Malcolm's Money"
Steve Love
Michael Glouberman
January 6, 2006
06-05-710
Malcolm begins to fuss about his high school yearbook photo. Meanwhile, he also receives a $10,000 education reward unknown for him, and when Hal and Lois find out, they want to spend it on themselves. After Dewey learns of this, he's in until Francis comes for a visit and learns the truth.
140
11
"Bride of Ida"
Linwood Boomer
Rob Ulin
January 13, 2006
06-05-711
Dewey, Lois and Hal go out of town to St. Louis for a piano competition. Without Lois around, Grandma Ida makes Reese get married to Ida's helper, Raduca (Rheagan Wallace), but only if he defeats Malcolm in three challenges. When Lois, Dewey and Hal return, they find out that Reese has run with Raduca to Las Vegas to get married, much to Ida's dismay.
141
12
"College Recruiters"
Peter Lauer
Jay Kogen
January 29, 2006
06-05-712
A broke Francis gets talked into getting a real job by Dewey. Back home, Hal takes over the college recruiters, which Malcolm refuses to meet with, and treats each one as a suitor. However, Hal's plans are ruined when Malcolm chooses to go to Harvard. Reese and Raduca's marriage ends when Lois and Reese catch Raduca cheating with her other lover, Bela. Note- Bryan Cranston was nominated for a Primetime Emmy Award for this episode.
142
13
"Mono"
David D'Ovidio
Andy Bobrow
February 12, 2006
06-05-713
Lois discovers she has mono after a visit to the doctor. She then ends up giving it to Malcolm after her maternal instincts begin. As a result, both Lois and Malcolm are forced to spend two weeks together in the same room. However, Malcolm learns there's more to Lois than the stern disciplinarian he and Reese sees daily and briefly enjoys spending time with her. Meanwhile, Hal is invited to all of his neighbors' parties and is horrified that they celebrate the days Lois will not be attending any of them. Dewey makes Jamie his slave, and he teaches Reese to be nice to Jamie.
143
14
"Hal Grieves"
Christopher Kennedy Masterson
Eric Kaplan
February 19, 2006
06-05-714
Hal gets a devastating phone call that his father has died, but because he never knew his father well and the way he and the rest of his relatives mistreat Lois, he does not shed a tear. In an attempt to overcompensate with his sons (and to ensure that they will love him forever), Hal takes the boys shopping and lets them miss school. While Reese and Dewey takes full advantage of it, Malcolm realizes it's wrong, but is still prepared to take advantage until Lois steps in. Hal's buddy Abe thinks that a phone call from Leonard Nimoy, a cast member of Star Trek: The Original Series will cheer him up. Instead, George Takei shows up at the door. Note- Bryan Cranston was nominated for a Primetime Emmy Award for this episode.
144
15
"A.A."
Steve Welch
Al Higgins
March 5, 2006
06-05-715
Lois and Hal visit Francis to help him celebrate one year of sobriety, but when they attend his A.A. meeting, they find out that he never really was an alcoholic; he blamed his psychological problems on nonexistent drinking, which he has blamed Lois for. Meanwhile, Dewey finds the spare key to Hal's car, but when Malcolm and Reese refuse to drive him to the arcade, it takes them more than 12 steps to find it – in his stomach.
145
16
"Lois Strikes Back"
Alex Reid
Gary Murphy
March 19, 2006
06-05-716
When four popular high school girls play an evil prank on Reese by pretending he has a secret admirer and then dropping a pig off at his front door, he falls into a huge depression. After Lois tries to negotiate with the principal (who responds that Reese deserved it), she forces Reese to tell her who the girls are so she can get revenge for him with a series of destructive pranks.

Note- Jane Kaczmarek was nominated for a Primetime Emmy Award for this episode.

146
17
"Hal's Dentist"
Steve Love
Jay Kogen
March 26, 2006
06-05-717
Hal's friend Trey tells him to come to his dental office when he cracks a tooth during a poker game, but their friendship goes into jeopardy when Hal's faced with a $2,000 bill and causes a fight between them. Meanwhile, Reese teaches Lois how to ride a bike. Malcolm and Dewey find sleeping as their new favorite pastime after finding a new mattress in the street (which literally fell from the sky).
147
18
"Bomb Shelter"
Matthew Carlson
Rob Ulin
April 2, 2006
06-05-719
Malcolm joins a local dance class to meet a cute girl, but after discovering she is a poor dancer, he realizes that he must accept Danielle, the unattractive, but most talented partner in order to win the competition. While trying to bury their father's broken trophy, Reese and Dewey discover an underground bomb shelter in the backyard and lock Hal in it, while Lois tries to win a new truck at the shopping mall. Hal soon discovers the bomb shelter is paradise, and Lois plays mind games for the truck.
148
19
"Stevie in the Hospital"
Steve Welch
Dave Ihlenfeld & David Wright
April 9, 2006
06-05-720
When Stevie goes to the hospital, Malcolm tries making up every excuse he can think of to not go because he can't face the truth about his illness. Meanwhile, Hal gets highly competitive about his new remote control boat when a ten-year-old keeps knocking it over. He manages to break the ten-year-old's boat, but the child starts crying and Hal is beaten up by some people watching from the field. Lois thinks Dewey is trying to drive her insane (Because she made Dewey get an F on his volcano because she didn't buy baking soda after he kept asking her), and Reese's new job as a telemarketer takes a bizarre turn.
149
20
"Cattle Court"
Peter Lauer
Michael Glouberman
April 16, 2006
06-05-718
Reese meets a cute vegetarian named Carrie (Tara Lipinski) when he goes back to work at the meat plant. He goes along with her politics talk at first, but she catches him with a pork chop. Feeling guilty for lying and his carnivorous compulsions, he sets free all the cows at the meat plant. Meanwhile, Malcolm tries to fool Craig in order to attend a rock concert, only to end up making Craig miserable. Craig decides to make a trip across country on a motorcycle, only to get trampled by the freed cows, then make one final attempt to be with Lois, and she manages to pacify Craig enough for him to go back to his life. Hal makes his own version of The Game of Life in hopes of beating Dewey, under the guise of teaching his son a lesson about real life.
150
21
"Morp"
David D'Ovidio
Gary Murphy
April 23, 2006
06-05-721
For the senior prom, Reese gets paid to take Janine, a studious girl in class, but only after she gives him a makeover and sends him to finishing school. Malcolm aligns himself with the unpopular kids to form an anti-prom they call "Morp". Dewey discovers there aren't any childhood pictures of him, so he concocts an elaborate scavenger hunt to punish Hal and Lois and throw a party for Jamie.
151
22
"Graduation"
Linwood Boomer
Michael Glouberman
May 14, 2006
06-05-722
In the series finale, as Malcolm struggles with his valedictorian speech Hal finds out that the family may not have enough money to send Malcolm to college. Meanwhile Reese is moving in with Craig, and since they're both leaving they decide (along with Dewey) that Jamie should have the childhood they never got, one free of threats. As such, they destroy their "nuclear option," evidence of the worst thing they ever did: fake an X-ray of Lois having cancer to sneak away with bad report cards, and a way to destroy each other if someone had nothing to lose. Francis finds the 9-to-5 job of his dreams but won't let Lois know, Reese tries to be a permanent janitor, enlisting Ida's help. Malcolm is offered a dream job in lieu of college, however Lois (determined that Malcolm will get a full education) turns down the offer for him. Furious, Malcolm demands to know why and Lois explains that she and the family expect him to become president, but it's important he struggles enough so that he understands what people like them go through. Malcolm, amazed at just how much the family expects of him, agrees. Three months later Malcolm is working his way through college, Reese and Francis are happy in their new jobs (although Francis still refuses to tell Lois), Dewey feels closer than ever to Jamie as the two keep up the tradition of causing havoc around the house and Lois discovers she's pregnant again.
Trivia
Alvin Seville, Baby Bugs Bunny, Baby Kermit, Winnie The Pooh, Tiana, Charlie Brown,  Reese Ambler, Rydell, the Kids Next Door, Numbuh 362, Ash and his friends, Littlefoot and his friends, Scooby-Doo and the gang, Scrappy-Doo, the Tom and Jerry kids, Tarzan and his family, Simba, Timon, Pumbaa, Timmy Turner, Cosmo, Wanda, Chester, AJ, Elmer, Sanjay, Trixie Tang, Dr. Rabbit and Dr. Brushwell, Ronald McDonald and his friends, Littlefoot, Cera, Ducky, Petrie, Spike, SpongeBob SquarePants, Patrick Star, Bloom, Stella, Flora, Musa, Tecna, Layla, Roxy, Simba, Timon, Pumbaa, Zazu, Terk, Tantor, Baloo, Bagheera, King Louie, the Vultures (Buzzie, Flaps, Ziggy, and Dizzy), Jiminy Cricket, Alex, Marty, Melman, Gloria, the Penguins of Madagascar (Skipper, Kolwalski, Rico, and Private), Genie, Louis, Roger Rabbit, Danny, Sawyer, Rex, Dweeb, Woog, Esla, Rapunzel, Pascal, Flynn Rider, Maximus, Jean-Bob, Speed, Puffin, Chanticleer, Wilbur the Albatross, Owen, Lindsay, Beth, Strawberry Shortcake and her friends, Danny Phantom, Sam Manson, Tucker Foley, Jazz Fenton, Danny, Sawyer, Jean-Bob, Speed, Puffin, Rex, Dweeb, Woog, Elsa, Rapunzel, Pascal, Flynn Rider, Maximus, Chanticleer, Wilbur the Albatross, Bob the Tomato, Larry the Cucumber, Junior Asparagus, Hercules, Megara, Philoctetes, Pegasus, Alice, Pocahontas, Meeko, Flit, Princess Aurora, Prince Phillip, Peter Pan, Tinkerbell, Rosetta, Silvermist, Idressa, Fawn, Oliver, Dodger, Lucky, Cadpig, Rolly, Spot the Chicken, Woody, Buzz Lightyear, Jessie, Tommy Pickles, Chuckie Finster, Simon, Theodore, Brittany, Huckle, Lowly, Woody Woodpecker, Ord, Cassie, Arthur Read Ash and his friends, Ronald McDonald and his friends, Bob the Tomato, Larry the Cucumber, Junior Asparagus, Laura Carrot, Jimmy and Jerry Gourd, Mr. Nezzer, Mr. Lunt, the Powerpuff Girls (Blossom, Bubbles, and Buttercup), Professor Utonium, Miss Keane, Blue the Puppy, Ploka Dots, Slippery Soap, Tickety Tock, Mr. Salt, Mrs. Pepper, Paprika, Periwinkle, Roar E. Saurus, Fredrica the Birthday Girl, Zazu, Rafiki, Kovu, Kiara, Terk, Tantor, the All-Grown Up Gang, Grandpa Lou Pickles, Carly Shay, Sam Puckett, Freddie Benson, Spencer Shay, Gibby, The Gummi Bears, Scrooge McDuck, Huey, Dewey, Louie, Webby, Launchpad McQuack, Darkwing Duck, Gosalyn Mallard, Honker Muddlefoot, Chip and Dale, Gadget Hackwrench, Monterey Jack, Zipper, Lilo, Stitch, Pleakey, Jumba, the Muppets (Kermit the Frog, Miss Piggy, Fozzie Bear, Gonzo, Bean Bunny, Rowlf the Dog, Scooter, Rizzo the Rat, Waldorf and Statler, Pepe the King Prawn, Sweetums, Thog, Sam the Eagle, the Electric Mayhem and Walter), Popeye, Olive Oyl, Popeye's Nephews (Peepeye, Poopeye, Pipeye, and Pupeye), Wimpy, Mario, Luigi, Princess Toadstool, Toad, Yoshi, Donkey Kong, Diddy Kong, Sonic the Hedgehog, Miles "Tails" Prower, Knuckles the Echidna, Amy Rose, Cream the Rabbit, Cheese the Chao, Shadow the Hedgehog, Rouge the Bat, Team Chaotix (Vector the Crocodile, Espio the Chameleon, and Charmy the Bee), Silver the Hedgehog, Blaze the Cat, Spyro the Dragon, Sparx the Dragonfly, Banjo and Kazooie, The Griffins (Peter, Lois, Chris, Meg, Brian, and Stewie), Glenn Quagmire, Cleveland Brown, The Teenage Mutant Ninja Turtles, Harry Potter, Hermoine Granger, Ron Weasley, Anastasia, Alex, Marty, Melman, Gloria, the Penguins of Madagascar (Skipper, Kowalski, Rico, and Private), King Julien, Maurice, Mort, Vitaly, Gia, Stefano, Marlene, Baloo, Bagheera, King Louie, Kit Cloudkicker, Rebecca Cunningham, the Vultures, Pinocchio, Jiminy Cricket, Geppetto, Woody, Buzz Lightyear, Jessie, Hamm, Slinky Dog, Rex, Mr. Potato Head, Mrs. Potato Head, the Squeeze Toy Aliens, Bullseye, Dolly, Mr. Pricklepants, Buttercup, Trixie, Chuckles the Clown, the Incredibles (Bob, Helen, Dash, Violet, Jack-Jack, and Frozone), Cinderella, Snow White, Ariel, Sebastian, Belle, Lumiere, Cogsworth, Mrs. Potts, Chip the Cup, Aladdin, Princess Jasmine, Genie, Abu, Mulan, Mushu, Cri-Kee, Pocahontas, Meeko, Flit, Princess Aurora, Princess Tiana, Louis, Rapunzel, Flynn Rider, Pascal, Maximus, Princess Merida, Peter Pan, Tinker Bell, Terence, Fawn, Rosetta, Silvermist, Iridessa, Vidia, Lucky, Cadpig, Rolly, Spot the Chicken, Alice, Hercules, Megara, Phlioctetes, Pegasus, Phineas and Ferb, Candace Flynn, Isabella Garcia-Shapiro, Stacy Hirano, Buford, Baljeet, Perry the Platypus, Kids World's Adventures Team, and the whole gnag will guest star in this show.
Gallery
Community content is available under
CC-BY-SA
unless otherwise noted.