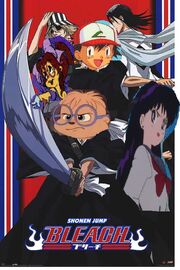 170Movies' TV-spoof of Bleach (2004). It will appear on YouTube in the near future.
Cast:
Ichigo Kurosaki - Simon Seville (Alvin and the Chipmunks)
Rukia Kuchiki - Raye/Sailor Mars (Sailor Moon)
Orihime Inoue - Jeanette Miller (Alvin and the Chipmunks)
Uryu - Max Taylor (Dinosaur King)
Yasutora Sado "Chad - Basil of Baker Street (The Great Mouse Detective)
Renji Abarai - Ash Ketchum (Pokemon)
Nanao Ise - Amy/Sailor Mercury (Sailor Moon)
Yachiru Kusajishi - Anne Marie (All Dogs Go to Heaven)
Sosuke Aizen - Uncle Harry (Alvin and the Chipmunks)
Toshiro Hitsugaya - ???
Yoruichi Shihoin - Buttercup (The Powerpuff Girls)
Yoruichi (Cat) - ???
Rangiku Matsumoto - Luna (Sailor Moon)
Kisuke Urahara - Boris (Balto)
Byakuya Kuchiki - Himself
Ikkaku Madarame - Clyde Crashcup
Grimmjow Jeagerjaquez - Jenner (The Secret of NIMH)
Ulquorra Cifer - Klaus Vorstein (The Chipmunk Adventure)
Kon - Himself
Kenpachi Zaraki - Charlie (All Dogs go to Heaven)
Shunsui Kyotaku - Himself
Jushiro Ukitake - Scrooge McDuck (DuckTales)
Soi Fon - Tea (Yu-Gi-Oh)
Karin Kurosaki - Clarice (Chip n Dale Shorites)
Yuzu - Sandy Cheeks (Spogebob Squirdpants)
Isshin Kurosaki - Grayson (The Nutt Job)
Masaki Kurosaki - Vinny (Alvin and the Chipmunks)
Retsu Unohana - Serena/Sailor Moon
Soi Fon - Sakura Haruno (Naruto)
Ikkaku Madarame - Jeff (Pound Puppies and the Legend of Big Paw)
Riruka Dokugammine - Francis (Cat's Don't Dance)
Yukkio Hans - Blue (Pokemon Origins)
Seasons:
Trivia:
Gallery:
Community content is available under
CC-BY-SA
unless otherwise noted.