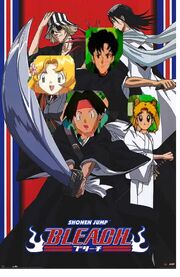 200Movies' TV-spoof of Bleach (2004). It will appear on YouTube in the near future.
Cast:
Ichigo Kurosaki - Tracey Sketchit (Pokemon)
Rukia Kuchiki - Serena/Sailor Moon
Orihime Inoue - Daisy (Pokemon)
Uryu Ishida - Ash Ketchum (Pokemon)
Chad - Brock (Pokemon)
Renji Abarai - Darien/Tuxedo Mask (Sailor Moon)
Nanao Ise - Velma Dinkley (Scooby Doo)
Byakuya Kuchiki - Finn (Tai Chi Chaser)
Shigekuni - Himself
Sosuke - Aizen - James (Pokemon)
Toshiro Hitsugaya - Rai (Tai Chi Chaser)
Rangiku Matsumoto - Hyper Blossom (The Powerpuff Girls Z)
Yoruichi Shihoin - Iris (Pokemon)
Yoruichi (Cat) - Balto
Kisuke Urahara - Himself
Ulquiorra Cifer - Tiger's Eye (Sailor Moon)
Grimmjow Jaegerjaquez - Malachite (Sailor Moon)
Kenpachi Zaraki - Himself
Yachiru Kusajishi - Herself
Isane - Mako (Sailor Moon)
Karin Kuroski - Amy/Sailor Mercury (Sailor Moon)
Zuzu Kuroski - Tammy (Pound Puppies and the Legend of Big Paw)
Isshin Kuroski - Professor Utonium
Retsu - Hino
Seasons:
Movies:
Trivia:
Gallery:
Community content is available under
CC-BY-SA
unless otherwise noted.