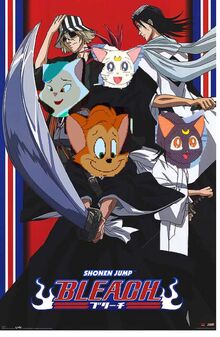 Cast:
Ichigo Kurosaki - Danny
Rukia Kuchiki - Luna
Orihime Inouce - Sawyer
Uryu - Iago (Aladdin)
Yasutora Chad - Theodore Seville
Renji - Artemis
Toshiro Hitsugaya - ???
Nanao Ise - Eleanor Miller
Yachiru Kusajishi - Marie
Sosuke Aizen - Jenner
Isshin Kurosaki - Thomas O'Malley (The Aristocats)
Masaki Kurosaki - Duchess (The Aristocats)
Karin Kurosaki - Becky Tatcher (Tom Sawyer)
Yuzu Kurosaki - Mewsette (Gay Purr-ee)
Seasons:
Movies:
Trivia:
This the 15tv show
Both Luna and Rukia Kuchiki were voiced by Michelle Ruff.
Gallery:
Community content is available under
CC-BY-SA
unless otherwise noted.