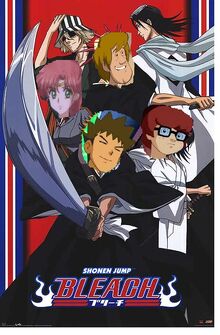 Chris1703's TV-spoof of Bleach (2004). It will appear on YouTube in the near future.
Cast:
Ichigo Kurosaki - Brock (Pokemon)
Rukia Kuchiki - Velma Dinkley (Scooby Doo)
Orihime Inoue - Lita/Sailor Jupiter (Sailor Moon)
Uryu Ishida - Officer Muldoon (Chip 'n Dale Rescue Rangers)
Yasutora Sado "Chad" - Officer Kirby (Chip 'n Dale Rescue Rangers)
Renji Abarai - Shaggy Rogers (Scooby Doo)
Nanao Ise - Serena/Sailor Moon
Yachiru Kusajishi - Bubbles (The Powerpuff Girls)
Sosuke Aizen - Neflite (Sailor Moon)
Toshiro Hitsugaya - ???
Tatsuki Arisawa - Raye/Sailor Mars (Sailor Moon)
Yoruichi Shihoin - Daphne Blake (Scooby Doo)
Yoruichi (Cat) - ???
Rangiku Mastsumoto - Flannery (Pokemon)
Kisuke Urahara - Himself
Byakuya Kuchiki - Fred Flintstone (The Flintstones)
Grimmjow Jeaqerjaquez - Klaus Vorstein (The Chipmunk Adventure)
Ulquorra Cifer - Himself
Karin Kurosaki - ????
Yuzu Kurosaki - ????
Isshin Kurosaki - Flint (Pokemon)
Masaki Kurosaki - Lola (Pokemon)
Gallery:
Community content is available under
CC-BY-SA
unless otherwise noted.