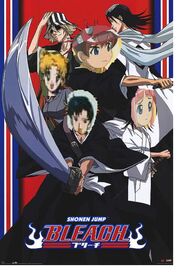 DinosaurKingRockz's TV-spoof of Bleach (2004). It will appear on YouTube in the near future.
Cast:
Ichigo Kurosaki - Darien/Tuxedo Mask (Sailor Moon)
Rukia Kuchiki - Zoe Drake (Dinosaur King)
Orihime Inoue - Serena/Sailor Moon
Uryu - Andrew (Sailor Moon)
Yasutora Sado "Chad" - Ash Ketchum (Pokemon)
Renji - Max Taylor (Dinosaur King)
Karin Kurosaki - Daphne Blake (Scooby Doo)
Yuzu Kurosaki - Velma Dinkley (Scooby Doo)
Toshiro Hitsugaya - Curdie (The Princess and the Goblin)
Kon - Fievel Mousekewitz (An American Tail)
Rangiku Matsumoto - Misty (Pokemon)
Shunsui Kyoraku - Professor Utonium (The Powerpuff Girls)
Nanao Ise - Raye/Sailor Mars (Sailor Moon)
Yachiru Kusajishi - Rini/Sailor Mini (Sailor Moon)
Yoruichi Shihoin (Cat) - Danny (Cats Don't Dance)
Yoruichi Shihoin - Lita/Sailor Jupiter (Sailor Moon)
Soi Fon - Candace Flynn (Phineas and Ferb)
Sosuke Aizen - Dr. Z (Dinosaur King)
Retsu Unohana - Amy/Sailor Mercury (Sailor Moon)
Riruka Dokugamine - Molly Baker (Sailor Moon)
Nemu Kurotsuchi - Tokoha Anjou (Cardfight Vanguard G)
Movies:
Bleach: Memories of Nobody (DinosaurKingRockz Human Style)
Trivia:
Serena/Sailor Moon, Isane Kotetsu, and Orihime Inoue were all voiced by Stephanie Sheh.
Both Retsu Unohana, and Amy/Sailor Mercury were voiced by Aya Hisakawa in Japanese, and Kate Higgins in English.
Gallery: