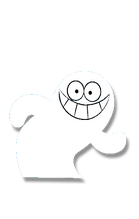 Bloo is an imaginary friend from Foster's Home for Imaginary Friends.
Bloo played Worm in

Cartoon Network Tale
Bloo played Lu-La in

Wildageddon: A Kion The Lion Cub Movie
Bloo played Rhino in

Jesse Wackman (Bolt)
He is a Hamster
About Him
Mac's 5-year-old imaginary friend and best friend who resembles a simple domed blue cylinder. Bloo is sometimes self-centered and narcissistic almost to the point of psychotic delusion and has a knack for getting into trouble. However, he still has a good heart and apologizes for his actions. Bloo loves paddleballs even though he can't make the ball hit the paddle (though the only time he was able to do it was in the episode "Let Your Hare Down"). His full name is "Blooregard Q. Kazoo". He has become increasingly more mischievous over the run over the series and is shown to have bad memory some of the time. HE IS VERY SELFISH MOST OF THE TIME.
Voice Actors:
Portrayals:
In

Foster's Home for Imaginary Rodents

he is played by Monty.
Gallery
Trivia
His appearances in the Stephen Squirrelsky and Friends' Movie Spoof Travels are FernGully: The Last Rainforest (Dragon Rockz's Style), A Pooh in Central Park, Bubblesrella 2: Dreams Come True, The Brave Little Piglet, Kung Fu Owen, Nikki's Adventures of Sing Along Songs Episode 8, The Thomas O'Malley Movie, Kermit Returns, Fievel the Red Nosed Mouse and The Island of Misfits, Nikki's Adventures of Sing Along Songs Episode 9, A Cartoon Character's Life Activity Center, Cloudy with a Chance of Meatballs (Justin Quintanilla's Style), Finding Alvin (J.B. Eagle's Style), Animated Tale (TheTure DisneyKing's Style), The Forest Book 2 (TrainBoy43's Style), Nikki's Adventures of Sing Along Songs Episode 10, Madagascar (FamousImagination50's Style), Sleeping Beauty (Justin Quintanilla's Style), Aurorastasia, Despicable Me (Justin Quintanilla's Style), We're Back!: A Jungle Animal's Story, Jimmynocchio, and The Wizard of Oz (Uranimated18's Style) and will even be in more movie spoof travels.