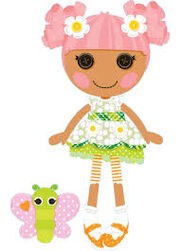 Blossom Flowerpot is one of the best gardeners in all of Lalaloopsy Land. She's super-patient and caring, always cheerful, and loves to dig around in the dirt. She's got a green thumb and she can make just about anything grow. Blossom is the older sister of little Petal Flowerpot. Her name is based off of her ability to make anything she plants blossom into something beautiful, as well as the many pots of flowers she has planted in her garden!
About Blossom
Appearance
Blossom Flowerpot has a tan brown skin and carnation pink cheeks. She has small tangerine orange freckles below her eyes. Her hair is carnation pink in color with straight cut bangs and a very small two-part cowlick and has short hair worn in small ponytails with daisy flower clips on each side.
Blossom wears a white dress with turquoise blue lining and an emerald green under-layer with tiny white spots on it and ruffled lace material underneath. Along with laced leggings above her knees, white socks, and tangerine orange Mary Janes with white bows at the toe.
Pet
Blossom Flowerpot's pet is a butterfly. Its body is chartreuse green with emerald green antennas while its wings are carnation pink with tiny white spots on them and a heart patch on the upper right wing corner. Its other wing color is sometimes tangerine orange with a small carnation pink or scarlet red colored spot on the right corner.
Home
Main article: Blossom's house
Trivia
April 22nd is Earth Day.
Blossom was introduced along with Tippy Tumblelina.
On Blossom's poster, she is shown to have lighter skin. The reason for this is unknown; however, some speculate that MGA may have used a prototype.
Gallery
Main article: Blossom Flowerpot/Gallery