BrattenA's Homemade VHS of 
Blue's Clues: Playdates with Dora
.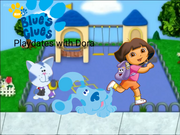 2 Episodes Included
Dora Babysits Blue
Blue, Periwinkle, and Dora's Playtime
Opening Previews:
Paramount Logo
Coming to Theaters
Jimmy Neutron: Boy Genius Trailer
Now Available on Videocassette
Peanuts VHS Trailer
Rugrats VHS Trailer
Blue's Clues VHS Trailer
Coming to Videocassette
The Little Bear Movie VHS & DVD Teaser Trailer
Paramount Feature Presentation/FBI Warning
Paramount Home Video Logo
Nick Jr. Kids Opening Bumper
Face the Cowboy
Closing Previews:
Face Makes Many Different Faces
Nick Jr. Kids Closing Bumper
Blue's Clues Credits (Playdates with Dora)
Nick Jr. Productions Logo (1999)
Nick Jr. Bears Logo
Paramount Home Video Logo
Face Promos:
Face the Cowboy
Face & Periwinkle
Face Makes Many Different Faces
Community content is available under
CC-BY-SA
unless otherwise noted.