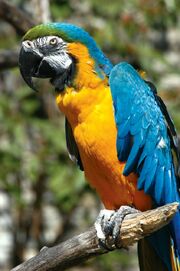 Blue and yellow macaws (Ara ararauna) are common in rainforests in Mexico, Central America and northern South America. They are herbivores. Blue and gold macaws use their beaks as a "third foot" to help them climb. Back and upper tail feathers are brilliant blue; the underside of the tail is olive yellow. Forehead feathers are green. Wing feathers are blue with green tips; underwing coverts and breast are yellow-orange. The bare facial area is creamy white with several lines made of small black feathers. The beak is gray-black; the throat black. Eyes are yellow and legs are gray.
Roles
Gallery
Books
See Also
Community content is available under
CC-BY-SA
unless otherwise noted.