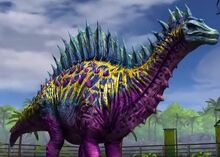 Bonitasaura is a titanosaurian dinosaur hailing from uppermost layers of the Late Cretaceous Bajo de la Carpa Formation, Neuquen Group, located in Río Negro Province, Northwestern Patagonia, Argentina. The remains, consisting of a partial sub-adult skeleton jumbled in a small area of fluvial sandstone, including lower jaw with teeth, partial vertebrae series and limb bones, were described by Apesteguía in a short communication in mid-2004.
Community content is available under
CC-BY-SA
unless otherwise noted.